New learning hubs in Za'atari Camp give young Syrian refugee students access to high quality education while allowing class facilitators to enhance their technical and professional skills in fields they have a passion for.
Blumont collaborated with the UN Refugee Agency (UNHCR), Learning Equality, and Google.org to launch Connected Learning Hubs in Za'atari Camp.
The Hubs provide an educational platform for young refugees, strengthening the quality of education through digital learning resources. In just the first two months since the hubs opened for instruction in June 2019, more than 500 students have joined classes. Courses are designed to complement school curricula with daily sessions implemented by qualified facilitators who are also Za'atari Camp residents. Students can explore lessons on math, Arabic, English, science, technology, and more.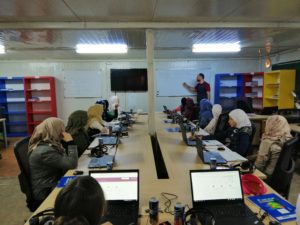 "I can join the Connected Learning Hubs any time," Oday, a participant at one learning center, said. "It's flexible so I can go to my class after finishing my work."
Classes are open to both female and male students at Za'atari, with most participants between the ages of 17 and 21 years old. With free access to technology and internet, the hubs provide young people a place to interact and explore new ideas.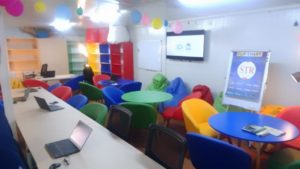 "Working as a coach enhanced my technical skills as a computer engineer, as we had proper training," Ahmad, a facilitator, said.
Facilitators also have the opportunity to develop new skills through training and teaching. The hubs are expected to reach more than 2,000 beneficiaries by the end of the year.
####
Blumont's Za'atari Community Based Protection Program (CBP), funded by UNHCR, works to protect the well-being, rights and dignity of Za'atari Camp residents through integrated and sustainable programming focused on case management, community mobilization and community engagement.
RELATED READING
Za'atari Community Based Protection Program (CBP)
TIGER Girls Achieve Their Dreams at Asian Taekwondo Championship