Blumont's Sindh Community Mobilization Project (CMP) team assisted March 3 in putting on a community engagement mela ("fair") for local residents in Sukkur, which provided entertainment and performances for guests and honored those working to improve education in Sindh.
Attaching a traditional localized touch, the mela was termed the Ta'leemi Tafrihi Mela ("Educational Entertainment Fair"), at least on the backdrop, and was held at the adjacent IBA Public School, Sukkur, which presented a perfect ambiance for the mela in the true sense of the word. The stage was set for a variety of performances lined up to enliven the day, and the canopied venue with seating arrangements for at least 300 people filled up quickly—overall, an estimated 700 people participated. Students from different public schools in and around Sukkur, including those from the hosting school, could be seen beaming with anticipation for what the mela had in store for them on a moderately hot and sunny day. Clad in colorful attires, they were accompanied by their parents and teachers.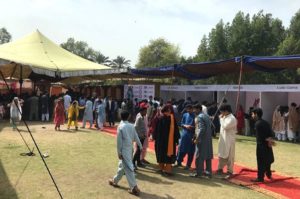 The event honored Additional Deputy Commissioner Ali Raza Ansari as the chief guest, while three guests of honor included Abdul Aziz Hakro, director of (Secondary) School Education Department, Sukkur; Shafi Mohammad Korai, district education officer of primary and secondary education, and; Muhammad Alam Thaheem, director of non-formal education.
Ali Raza expressed thanks to the US for helping the schools, teachers, parents and children of Sindh, and also lauded the larger health, cleanliness and education programs implemented by USAID. The guests of honor were full of similar appreciation for USAID and all its endeavors in various sectors of Pakistan in general, and Sindh in particular.
The mela's stage hosted a variety of performances comprising upbeat Sindhi numbers, acrobatics and a magic show. All routines were beautifully choreographed and performed by school children, both boys and girls, while other segments were conducted by a team of young men from Balochistan. In and around the mela site, two jokers could be seen walking on stilts to amuse children and perform mini skits. It goes without saying that the crowd, mostly children, was enthused with the performances and other segments.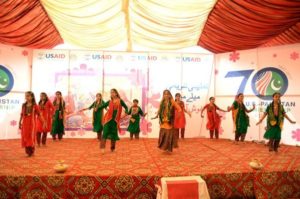 Just outside the entrance of the venue canopy, stalls were put up to highlight some of the USAID-funded programs working under the larger umbrella of the Sindh Basic Education Program (SBEP). These programs shared their respective program materials with students, teachers, parent and officials from the education departments of Sindh. In addition, activity-centric stalls provided a variety of fun activities geared toward children, such as darts, carom-board, face painting, mehndi, ludo, a drawing competition and children's reading material, among others.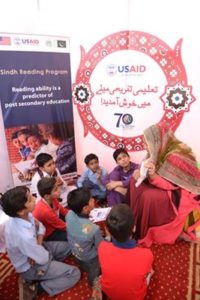 Many organizations and implementation partners helped make the mela possible. CMP would like to thank: the advertising agency Saatchi & Saatchi's extensive efforts to ensure media presence, coverage, interviews, and professional guidance and directions led by Qamar Goreja; the communications team members, primarily of SBEP and CMP—Mahboob Ali Naich and Amjad Jamal, respectively—for obtaining venue permissions and waiver of charges for grounds use from IBA Karachi, sending invitations to media personnel, finding security for the event, facilitation and selection of the venue; the district administration and education authorities for their participation, and; the children for their colorful stage performances. The fair concluded with distribution of shields to participating performers, teachers, children and organizing members. Overall, the synergy between USAID Documentation Outreach and Communication (DOC), M&C Saatchi and communications team members translated into a very successful mela!
****
CMP is a USAID-funded program that supports the Government of Sindh's education reform and USAID's Sindh Basic Education Program. CMP improves school resources and encourages community support for educational reform in Sindh province while identifying and addressing primary barriers to access, particularly for female students.
RELATED READING:
Sindh Community Mobilization Program (CMP)
CMP Interventions Improve Girls' Access to Education