After many years of conflict and war in Northeast Syria, agricultural livelihoods have almost completely disappeared and local products have vanished from the shelves.
Jomaa has been working on his family's smallholder farm in Syria since childhood. But without the resources and funds to keep the farm running, he has been unable to support his family. Jomaa explained the many challenges farmers in Northeast Syria are facing: "Right now, I don't have enough money to cultivate my land like I did before. The high prices of agricultural inputs and their frequent unavailability make it even harder, as does the lack of agricultural labor due to migration and the high cost of operations, like plowing and harvesting. Most importantly, there is a lack of agricultural guidance and awareness."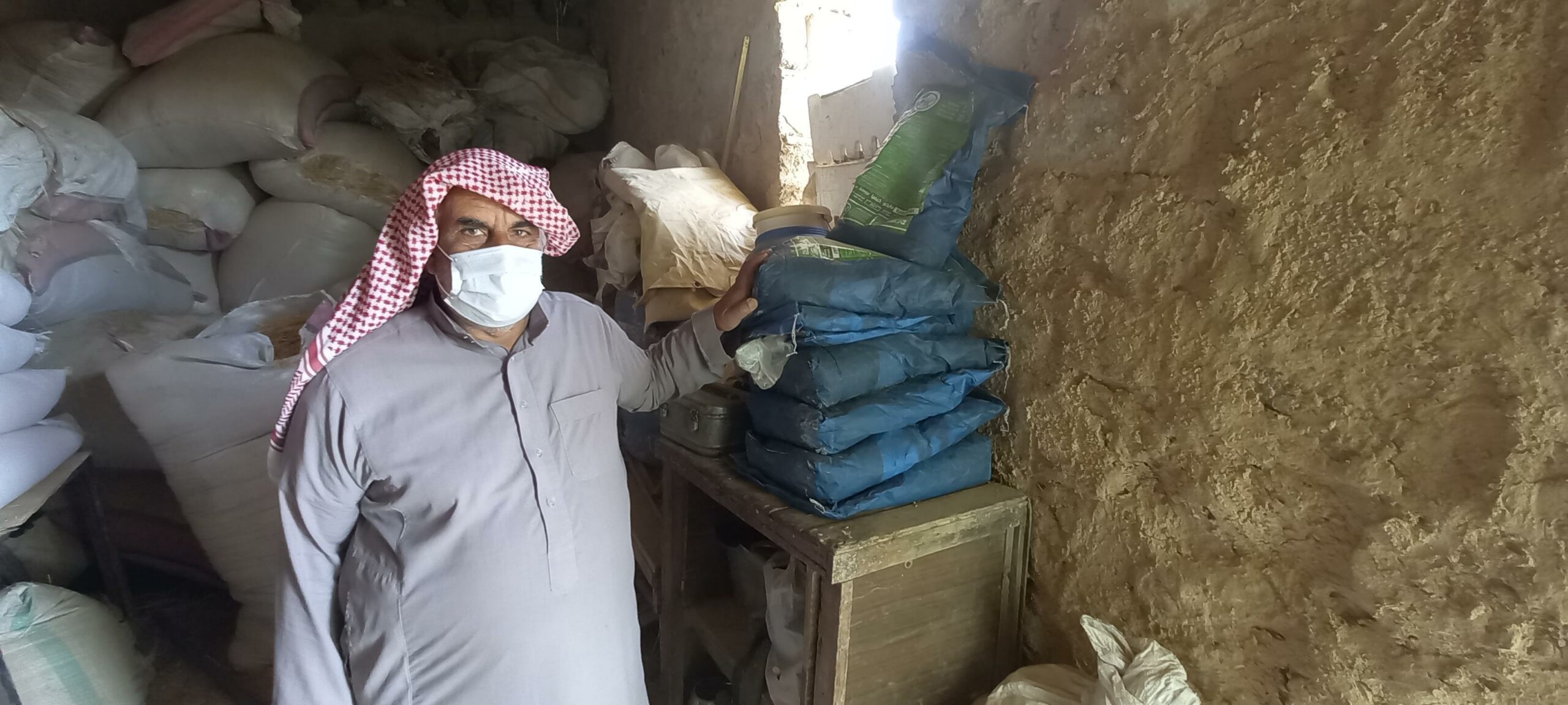 With the support of USAID's Bureau for Humanitarian Assistance and implemented by Blumont, the Shelter and Food Emergency Response (SAFER) project is helping smallholder farmers in Syria plant their farms again and move closer to regaining food security.
Jomaa was selected to participate in the SAFER smallholder farmer activity, which provides local farmers with the necessary inputs (seeds and fertilizers) to revitalize their farms, as well as agricultural trainings on topics such as wheat and barley cultivation, growing crops at the lowest cost, disease control, and weed management. For Jomaa, this was all guidance that he previously would have had to pay for and could never afford.
"The farmers are all enthusiastic about the project," said one of the trainers. "They have good experience in agriculture, but they depend on traditional methods of implementing agricultural operations. They have some common mistakes in implementing agricultural operations. We noticed that they have a quick response to changing those mistakes."
The smallholder farm training not only taught Jomaa new information, but also helped him reevaluate farming and marketing techniques that he used in the past. For example, Jomaa had believed that increasing irrigation would increase production. On the contrary, the trainers explained the harmful effects of excessive irrigation on production and cost. Another key lesson that Jomaa learned was about the importance of the correct timing for planting and harvesting – a common issue that decreases production.
"The training was very useful," said Jomaa following the sessions. "We learned many things we didn't know before, such as the importance of the preparation of organic fertilizers, the optimal time for agricultural operations, water management, and seed storage."
In addition to conducting the training, Blumont has distributed wheat seeds and fertilizer to the farmers to plant in time for the winter crop season. "They are good, clean seeds and I am hopeful that I will get high yields," Jomaa said in late November when preparing his land for planting the following week.
"I pray that the season is good for all farmers," he shared.
When the time came to plant the seeds and use the fertilizer, our team was at Jomaa's side. As the crops grow, he and other local smallholder farmers will continue to have regular visits with Blumont staff who will offer additional guidance on cultivation and efficient farming and ensure the smallholder farmers are confident in sustaining their land.
Now, Jomaa can contribute to his family's food security and potentially bring in a stable source of income by selling any crop surpluses. With training and support, farmers like Jomaa can expand agricultural production in Syria and get their local products back in the markets.