The United Nations officially declared August 19th World Humanitarian Day after a 2003 bombing in Iraq killed 22 humanitarian workers. Each year, this day is centered around a theme to advocate for the well-being of those affected by humanitarian crises as well as the safety of aid workers, and this year the theme is It Takes A Village.
In the same way it takes a village to raise a child, in the field of humanitarian assistance it takes a team to support a community's recovery. At Blumont, our "village" is filled with people ranging from caregivers and coordinators to engineers and social workers, but what brings us together is our desire to help people overcome challenges.
In honor of World Humanitarian Day, we are highlighting the efforts of seven of our team members from programs in Syria, Colombia, Jordan, and Iraq to showcase how humanitarian assistance truly takes a village.
Jhonny, Assistance Officer – Colombia

A typical day for Jhonny on the Acogida program, which connects Venezuelan migrants and refugees in Colombia to critical services and helps facilitate their integration into host communities, is marked with regular contact with migrants. One day, he might be checking on Venezuelan families receiving rent subsidies and another day he might be going door-to-door to ask families how they are doing and what services they need.
What's an experience you've had as an assistance officer?
"When I visit the homes of refugees, they have opened their doors to meet me and let me introduce myself to their family and learn about their dreams and their needs. This has allowed me to know their strength, their capacity for resilience, and the dream they want to achieve as refugees in this country."
How has this job changed your perspective?
"I have learned so many things on a personal and professional level – new flavors, colors, knowledge, word, and powers. In my discussions with refugees, I am seeing how I can support integration."
Salwa, Social Worker – Syria

In her day-to-day as a social worker in a displacement camp in northeast Syria, Salwa brings people together. She encourages children and adults alike to attend daily activities, training sessions, awareness campaigns, and other ongoings at the camp to keep resident engaged and informed.
How do you interact with displaced people every day for your job?
"As a sort of link in the camp network, every day is a special day for me. I always strive to add something new to their day and try to bring stability, well-being, and psychological calm to people.
How has working in the humanitarian assistance field changed your life?
"Working with refugees and displaced persons changed my life, as it made me more aware of taking responsibility and working with sincerity and dedication. It also strengthened my confidence in being able to help people who have experienced calamities beyond their control."
Jaber, Monitoring & Evaluation Officer – Syria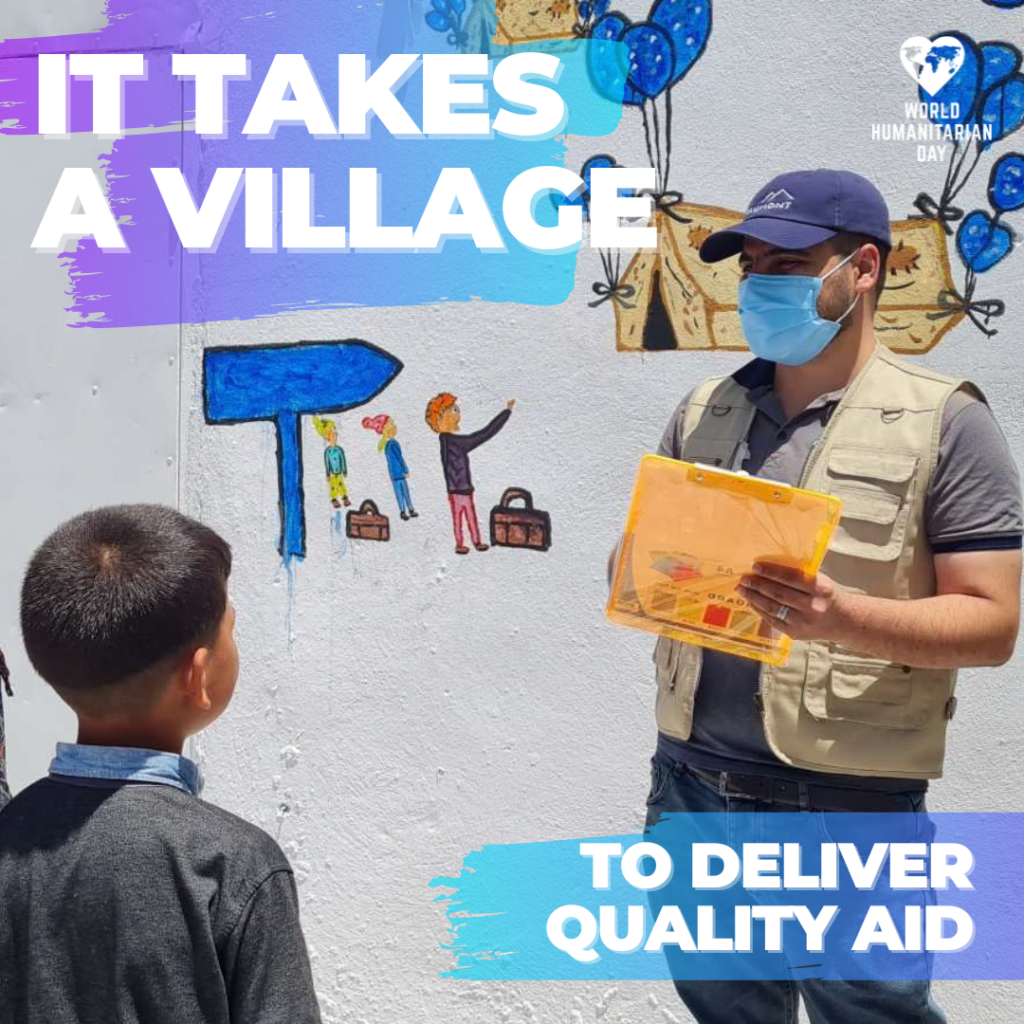 As an M&E officer for a humanitarian assistance program in northeast Syria, Jaber interacts with many aspects of the program throughout his day. He follows monitoring plans to make sure activities are happening as scheduled, engineering works are going according to plan, and goods are being distributed on time and in good condition. The quality checks and data he collects help Blumont's program run smoothly and stay on track.
What role do you play in humanitarian assistance and why is it important?
"Despite the complicated situation in the camp, we are required as humanitarian workers to serve everyone equally and interact with them in a way that makes them feel that we are here for them. As part of the M&E team, I have to maintain the quality, accuracy, and eligibility of the materials, services, and activities that serve the interest of all the displaced and refugees residing in the camp, and make sure that their interests remain above any other considerations."
What have you learned from this role and what do you want others to know?
"Working in these circumstances made me appreciate the value of the basic services that I enjoy and to preserve resources such as water, shelter, and food. What I want everyone to know is that all countries of the world are vulnerable to crises, disasters, and wars, so we should join hands and stand in solidarity to support humanity and human rights around the world."
Ahmad, Caregiver – Jordan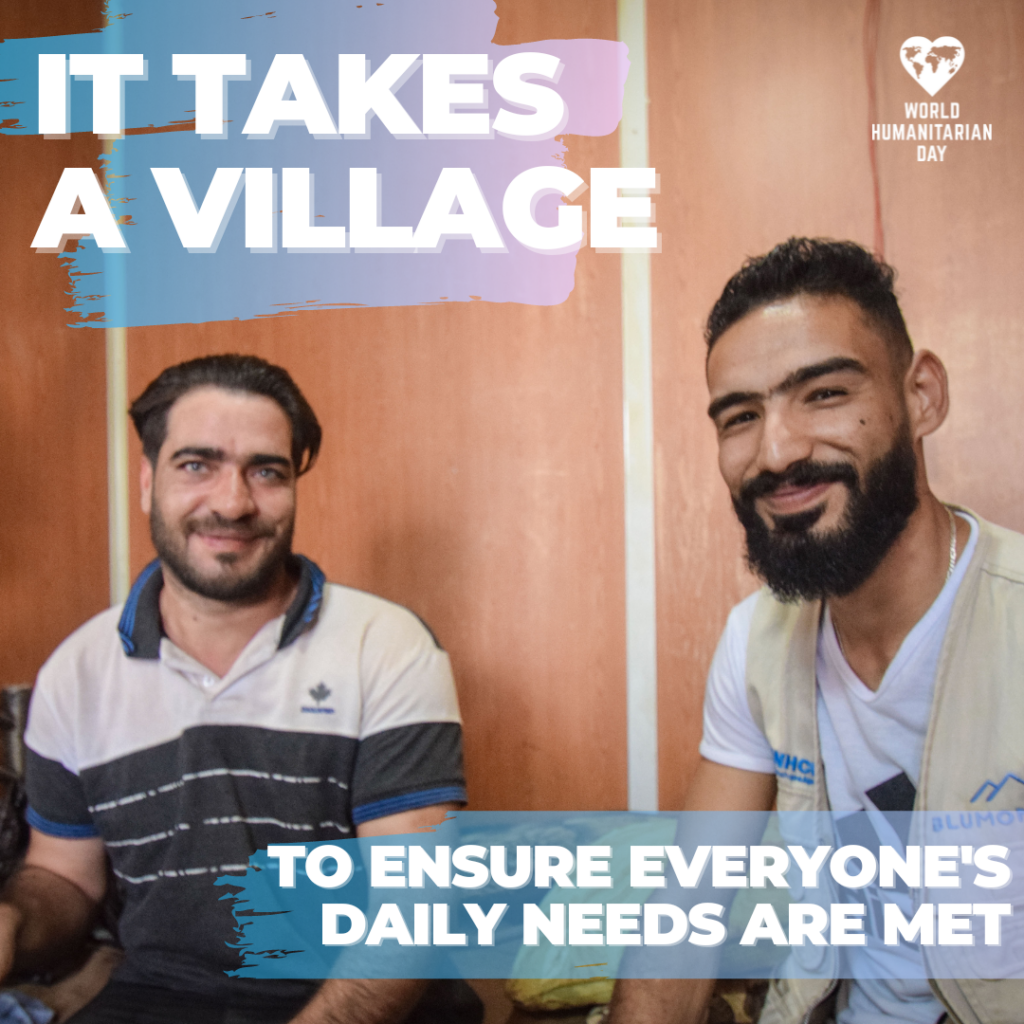 Ahmad is a Syrian refugee living in Za'atari Camp in Jordan. He works as a caregiver under the Community Based Protection program, where he supports elderly refugees and people with disabilities in the camp perform daily tasks, such as grocery shopping, preparing food, and taking their medication. One of the cases Ahmad supports is Iyad, a 33-year-old resident with a disability in his leg. "I was able to walk when I lived in Syria, but my leg was injured as a result of the fighting. [Ahmad] stands by me daily and makes sure my needs are met."
How do you feel when you help displaced communities as a refugee yourself?
"Providing a helping hand makes me feel satisfied in who I am as a person. Studies have confirmed that helping others reduces stress and anxiety. The greatest feeling is providing vulnerable residents with a sense of security and safety and helping them forget the tragedies they have been through."
How has your work surprised or inspired you?
"I have found that the people who suffer the most in life have the most strength, energy, and desire to make great achievements in their lives. This work has created a substantial change in my life and showed me that there are many people around you who can use your help. Helping others brings joy and it does not need to be limited to relatives, but also neighbors and other community members."
Luisa, Civil Engineer – Colombia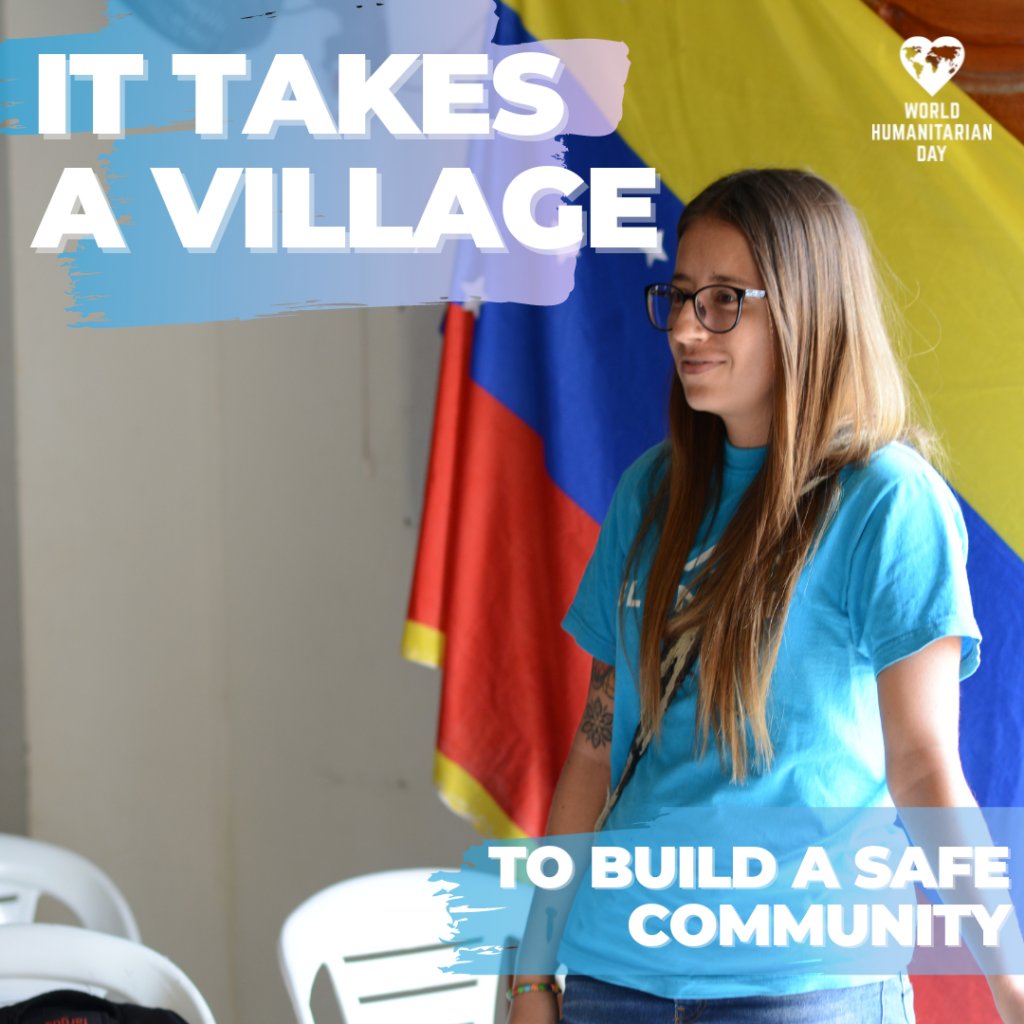 Luisa is a civil engineer for Blumont's two Colombia-based projects and she makes dreams come true. In each neighborhood that we work in, a community action board made up of residents works together to decide on what kind of infrastructure would help their community the most. Luisa takes their ideas and brings them to life in her engineering designs. From bathrooms to street lighting to schoolyards, Luisa makes sure communities have safe places to work, play, learn, and live.
Why is your role important for humanitarian assistance projects?
"Humanitarian assistance projects can include infrastructure interventions to improve an area for a community. I believe my role in the design and construction processes for these projects is important because I transform technical requirements into simple language and I help accomplish projects that meet the expectations and needs of the communities we work in."
How has working in the field of humanitarian assistance changed your life?
"Working in humanitarian assistance as a civil engineer has allowed me to become aware of the immediate needs of the communities we work in and to recognize the incredible things they can do by participating in all stages of the projects. It has taught me that the starting point of a successful project is active listening."
Majed, Agriculture Coordinator – Syria
Majed coordinates our humanitarian efforts in agriculture in Syria for the SAFER program. He guides a team of agriculture technicians who visit farms and gardens that are receiving support from Blumont. On visits, he and his team train farmers on how to fertilize, water, and grow their crops and address questions and concerns they might have. In total, Majed's team has helped over 1,300 families experiencing food insecurity.
What motivates you to do this job?
"Being an agricultural engineering graduate from a rural area, it was easy for me to feel and understand exactly what rural farmers in this region need. This role makes me work hard to ensure that the community is satisfied. In short, when I go home at the end of the day, I am comfortable knowing that I accomplished something for people in need."
How has this role changed your perspective?
"Once I joined the humanitarian assistance field, I realized that there are people working from afar to extend a helping hand. As for changing my life, I was able to gain a lot of experience in a short time, developing myself culturally and financially."
Jwan, Senior Protection Officer – Iraq & Syria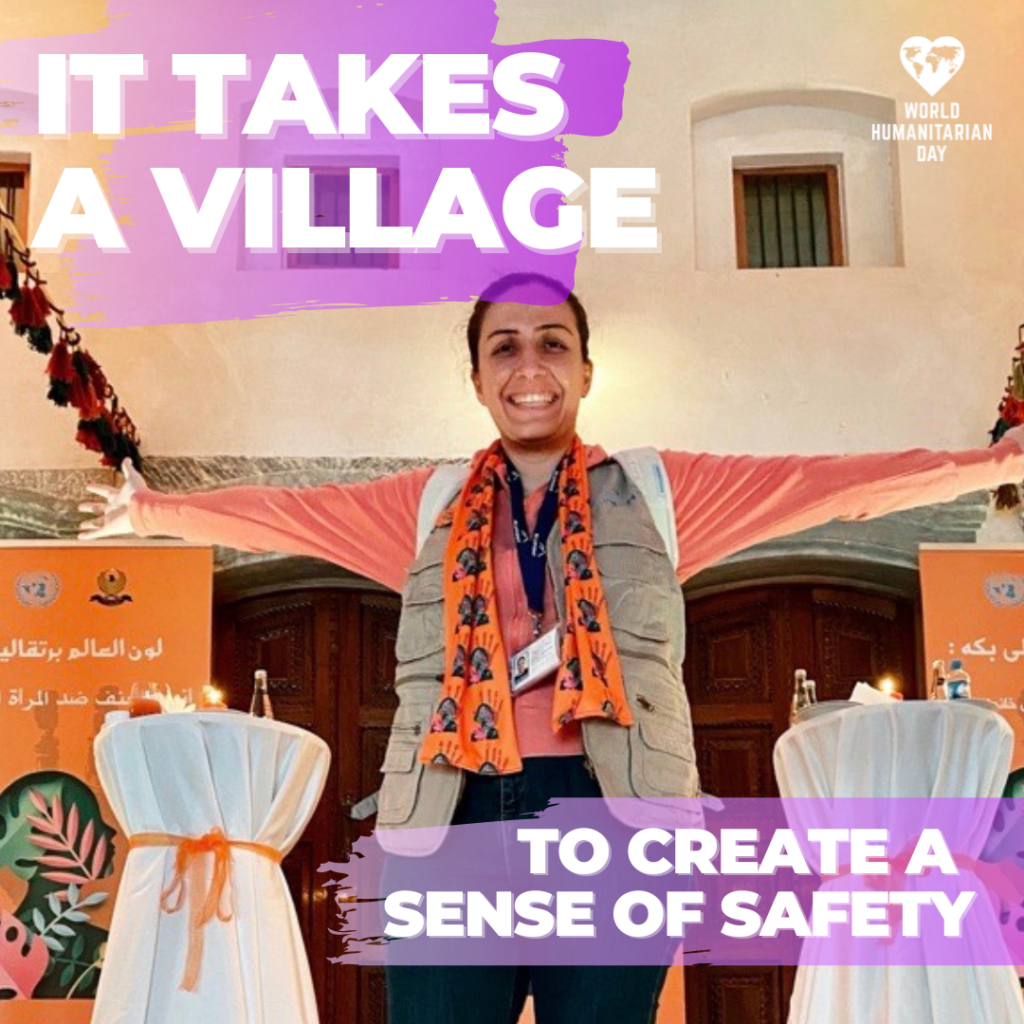 Jwan offers technical leadership to a team of protection officers and front-line humanitarian staff working in several camps in northeast Syria. Through remote management from Iraq, Jwan trains protection officers based in Syria to ensure they provide quality services that help residents feel safe, seen, and engaged. She also leads various community awareness sessions on topics including gender-based violence, social cohesion, and child protection. Her support for people in the camps creates a sense of community and a network of care for people in need.
What does this role mean to you?
At Blumont, I feel we have a shared responsibility to serve others and to serve them with joy! In humanitarian work, there are ups and downs because we work in some of the world's toughest places. It's not easy to bring light and hope to other people's lives, but knowing that children and women feel that their voice is heard and their rights are protected means everything to me.
How has working in humanitarian assistance impacted your life or changed your perspective?
It taught me to be humble at heart. I get my everyday inspiration from people's courage and unwavering spirit to keep going even in the face of so much hardship. I have been in many challenging situations through the humanitarian response journey. I've learned that collaboration, coordination, and mutual support for serving the greater good is what made working with others especially children possible. Good always prevails.