"We can now understand English, it's easy." – a student
After seeking refuge from Syria and Iraq in Jordan, thousands of students are forced to drop out of school. Upon arriving in Jordan, many of these students are unable to enroll in local schools due to overcrowding, restrictions on documentation and prolonged absences which cause them to fall behind. Students who are able to enroll face difficulties coping with the curriculum especially in subjects such as English and math, and face discrimination from other students. To ameliorate the situation, IRD held remedial classes at Community Based Organizations (CBOs) within refugee communities in Jordan.
As of June 2016, over 657,000 Syrian refugees and 54,000 Iraqi refugees have registered with UNHCR. Refugees from Syria and Iraq have been residing in Jordan for more than two and more than four years, respectively. These long-term refugees require more than basic needs, including access to education. According to Jordan's Ministry of Education, over 145,450 total Syrian refugee children enrolled in public schools for the 2015/2016 school year. This led to classroom overcrowding and put a strain on already insufficient resources. Both of these factors lead to a decline in the quality of education and forced students to drop out.
The Community Based Support to Refugees program (CBSR-2), now in its second year, aims to provide activities that have long-term impacts on refugees and vulnerable Jordanian communities. Through focus group discussions conducted with parents and students, the program was able to determine that education was a top priority. As a result, IRD has been conducting remedial classes in Al Salt, Zarqa, Irbid and Amman Community Based Organizations in Jordan, reaching over 100 children, ages 9-14, from Syrian, Iraqi and Jordanian communities.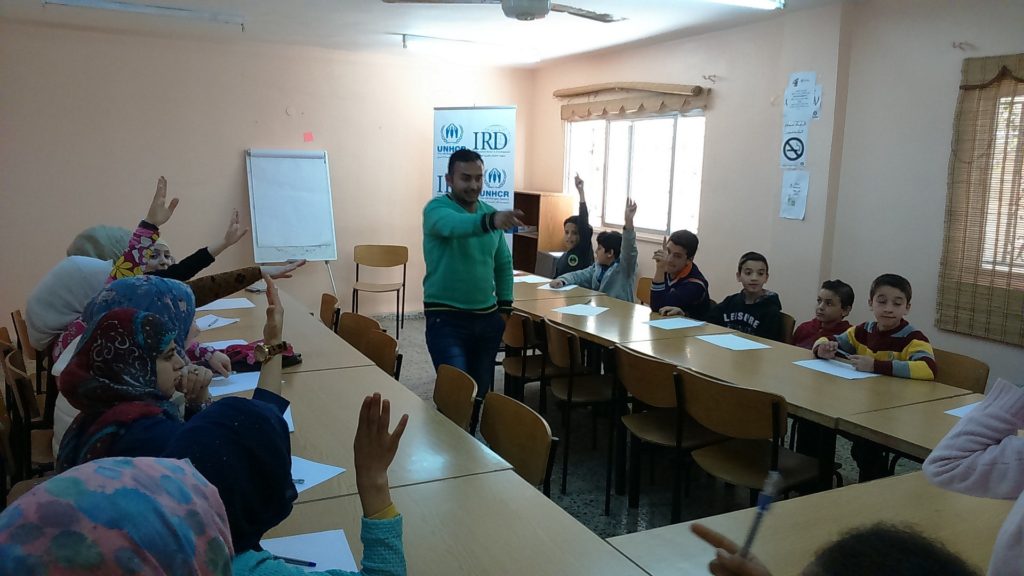 In times of displacement, education plays a significant role in assisting with social cohesion between refugees and host communities. During remedial classes IRD Community Mobilizer Mohammad Shamma'a witnessed students from both communities (refugees and Jordanians) studying and interacting with one another, thus forming friendships and bonds. The students informed Mohammad that the remedial classes provide them with comfort, confidence and a safe haven. In addition to attending remedial classes, all of the students attend other IRD activities and provide suggestions to CSO members for future activities such as computer skills and mathematics.
To measure the impact on the students, pre-tests and post-tests were administered in every class. Following the post-test, each teacher provided an illustrated graph that allowed the students to visualize their improvements. These tests encourage students to keep going to school and provide a sense of hope that displacement will not halt their education.