Night turns to day; blistering summer heat turns to bitter winter cold. Food is scarce, but hunger is forgotten as people walk endlessly. The number of deaths increases day by day – fifty here, one hundred there. Human beings become numbers.
More than 5,200 Iraqi refugees now reside in Al-Hol camp according to official figures. Estimates indicate more than that in addition to those displaced inside Iraq. Behind each one of these refugees there is a story of pain, suffering, exhaustion and hunger.
Hamood Jasem Muhammad is a refugee who fled to Syria from his home in Mosul to escape ISIL. Hamood is 40 years old and his wife Hanaa Salem Muhammad, 31 years old, left Iraq with their four children; Younes, Hasan, Falah and Imad aged nine years, seven years, four years, and one year, respectively.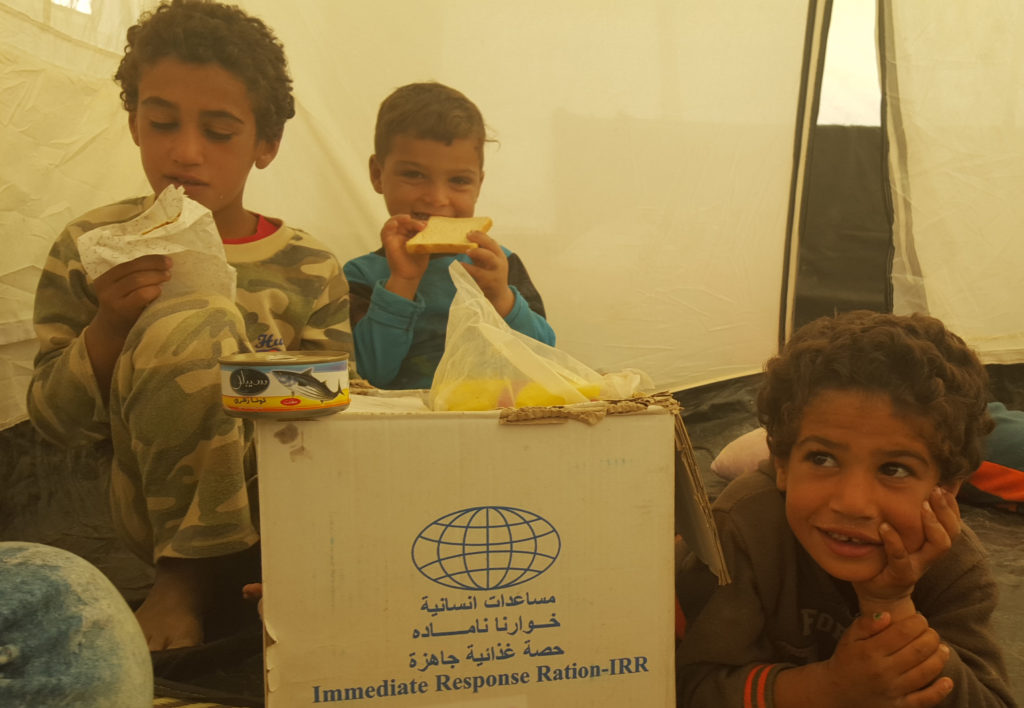 When IRD/Blumont staff met Mr. Hamood and his family, they asked him about his work in Iraq. He said, "I was working as a laborer, not living a luxurious life but I was happy and pleased with the simple and safe life I had. We arrived in Syria in October 2016 by paying smugglers approximately 236,000 SYP per person, walked through rugged terrain on foot for seven hours, slept without shelter for two days and went without food until we arrived in Syria. What really bothered me was watching my family go hungry and not being able to provide for them." He also added, "I really appreciate IRD [Blumont]'s quick response as they provided us with food as soon as we reached Al-Hol camp. We were able to manage our hunger with the food package we received as it contained enough good quality food."
Hamood said, "It is difficult for camp management to provide bread for all refugees as there is a shortage of bread in the region and prices are high because of the crisis in Syria. Wherever there are vulnerable families and refugees IRD [Blumont] tries to assist them directly."
RELATED READING:
Immediate Response Ration Distribution Brings Relief in Syria