Little Hugs wass a group of boys and girls of the Renacer 2 de Julio housing settlement in Popayán, Colombia.
As a mutual support group, Little Hugs engaged in games, and both group and individual strategies. This methodology helped the children build up their emotional strength and thus change the feelings and emotions brought by the scars of violence and war carved into their lives.
Their stories were collected in a book called "Peace Dreamers". These stories describe what each of the Little Hugs children had to endure as victims of the daily confrontation due to the armed conflict in Colombia, conflict that has affected their memories and brought dreams of peace. These stories will bring readers closer to understanding the children's daily brushes with violence.
Since all humans learn throughout their lives, unlearning is a valuable skill that each of us must acquire. The process implemented with the group had as its objective to learn to dream in times of shortages, family trouble and ongoing violence. Listening to the children's naïve voices narrate their simple, yet revealing, stories in their personal "Peace Dreamers" book is an invitation to continue aiming for an open and sincere dialogue so that together we allow ourselves a future in which children have a different reality.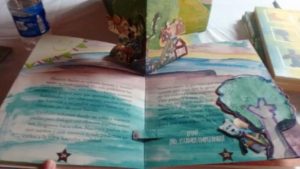 "My name is Maria Alejandra and I am 15 years old. I have lived in Renacer 2 de Julio for two years and we came here because my father was killed, and we were forced to leave our land. I am sharing this story that hurts my heart because I did not have a chance to share more time with my daddy. On December 5, 2008 he left for work at 6:00AM. We had a very beautiful house where we all lived together. That day he had planned to have the utilities installed after work. He kissed us goodbye. Azucena, my little sister, was only three years old. Wilmer, my brother, came back home very nervous; he walked back and forth, and my mom asked, 'What´s wrong?' 'Dad was killed!' They took him away from us; I would never see him again; I would never smell him again, listen to his smiles, his advice; it is something that really hurts; it is a life of suffering we have had to live, we have had to struggle.
After dad was murdered we went to live with grandpa, but after a while he got tired of us and we had to leave his home. We had to come to a strange city and build a hut with tarps and mud, empty, in a forgotten street. That is how we have spent our lives, missing my daddy, my home, my mom; we only see my mother on weekends. I am the one who takes care of my sisters, in charge of cooking, in charge of their grooming, and walking them to school.
I had never felt like a new girl since we moved to the Renacer 2 de Julio settlement; I had not tried painting, writing, and I hadn't dreamed again before moving to the settlement. I learned that responsibility involves me too, and that I should not stop dreaming.
I want to let other kids know how I have changed, how happy I have felt, let them hear the permanent laughter with my new friends. I am grateful for life, I was born again!!!"
RELATED READING: