Um Yousef arrived at a displacement camp in northeast Syria with her husband and children after fighting intensified in her hometown. The trauma she faced has been further compounded by the challenges of living in the camp. With her husband suffering from an injury, Um Yousef and her family struggled to make ends meet in their new home.
Um Yousef, who had been a housewife before her displacement, was raised with traditional ideologies about the role of women in society. After hearing stories of her female neighbors taking on leadership roles in the community, she was inspired to start her own business to help meet her family's needs.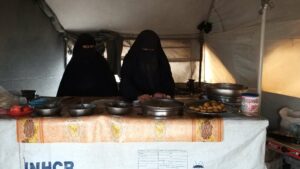 As part of the humanitarian assistance services provided in the camp, Um Yousef's family receives monthly food baskets that include chickpeas. She decided to use the chickpeas to make and sell falafel, a popular food item among the middle eastern camp residents. To support her efforts, Blumont provided Um Yousef with a falafel-making kit and a tent to sell her products out of.
Despite not having any experience running a business or making falafel, Um Yousef worked hard to learn the necessary skills. Within eight months of opening her shop, Um Yousef became a well-known name in the camp for her quality and affordable food.
"Falafel is considered the food of the poor," said one of Um Yousef's customers. "Um Yousef meets our community's food needs while considering people's low incomes in the way she sets her prices."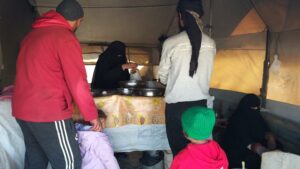 Um Yousef now makes 10,000 Syrian pounds (approximately $4) a day, which has allowed her to send her children back to school. She hopes to continue saving money to cover the cost of sending her husband outside the camp for a needed surgery.
"Opening a falafel shop improved my self-confidence," said Um Yousef. "I now earn my own income that I can use to meet my family's needs."
Um Yousef's work not only changed her family's life for the better but is also inspiring other women in the camp to start their own businesses and challenge gender stereotypes. She serves as a reminder to women of their right to work and to pursue a life of dignity.
"A woman can be a source of power for her family members," said Um Yousef.