In response to the Syrian crisis, a large network of humanitarian agencies operating in Jordan mobilized to provide critical services to conflict-afflicted populations across all sectors.
One key role of the Health Support for Iraqi and Syrian Refugees (HSISR) program, implemented by International Relief and Development (IRD)/Blumont, is to utilize this network of organizations to connect urban refugees to the health services they need.
HSISR's Senior Community Mobilizer, Malik Tawalbeh, accompanied by HSISR Community Health Worker (CHW), Rasha Mohammed, met a Syrian refugee named Abdulrazzaq during a follow-up visit to the Ibin Sina Ministry of Health (MoH) Health Center. Mr. Abdulrazzaq is a 64 year-old Syrian refugee suffering from heart disease and hypertension who underwent open heart surgery two years ago.
Mr. Abdulrazzaq is unable to receive the treatment and medications he needs on a monthly basis due to his financial limitations. After conducting a home visit, Rasha referred him to the services provided through the Ibin Sina MoH Health Center. This referral connected Mr. Abdulrazzaq with health services that allowed him to receive the prescribed treatment and medications that were previously unavailable.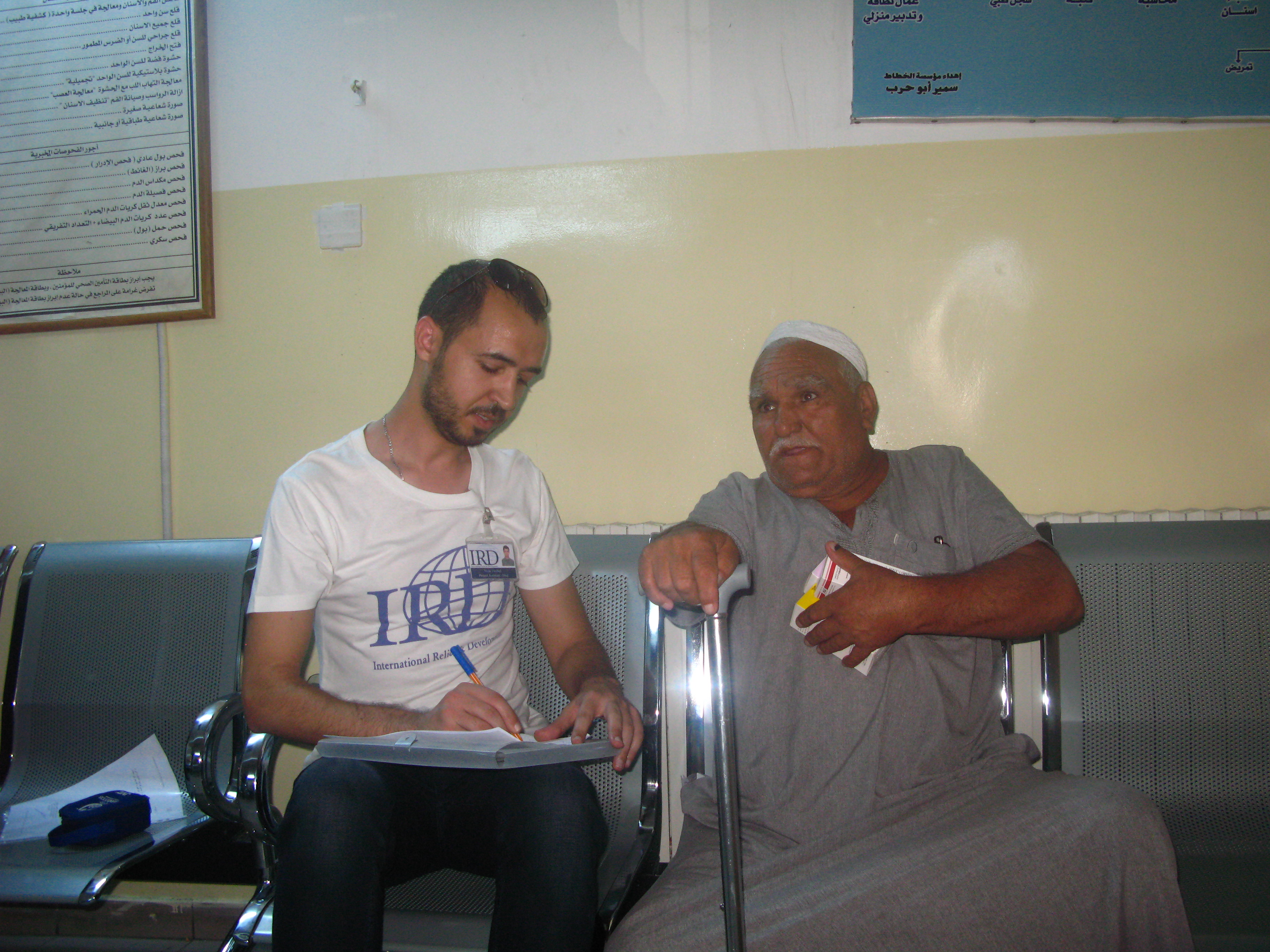 Mr. Abdulrazzaq struggles to visit the health center on a regular basis because he suffers from a leg disability which makes it difficult for him to walk long distances. He also cannot afford to arrange private transportation each time he needs to visit the center. This situation could be solved by providing him with a wheelchair but they are too expensive for him to purchase one himself.
IRD/Blumont referred Mr. Abdulrazzaq to the focal point at Handicap International (HI). This NGO enabled Mr. Abdulrazzaq to register for a wheelchair free of charge which he would receive within two weeks.
In addition, IRD/Blumont referred Mr. Abdulrazzaq to the Medical Relief Organization – a local Jordanian organization which transports injured and disabled patients who cannot afford transportation fees and are not able to use public transportation because of their disability. The organization transports patients with disabilities between their places of residence, medical centers and rehabilitation centers, entirely free of charge.
Mr. Abdulrazzaq was grateful for the support IRD/Blumont and the HSISR program staff provided, noting that he felt, "forever grateful and thankful for IRD who have brought joy back to my life by providing me with valuable information and connecting me to I/NGO health service providers that I was previously unaware of. I am forever grateful that I met Malik and Rasha who gave me hope that I lost years ago."
RELATED READING: