The Shelter and Food Emergency Response program (SAFER I & II), funded by the USAID Bureau for Humanitarian Assistance, has alleviated suffering and laid the groundwork for positive change for people in northeast Syria. From food and nutrition solutions to improved living conditions, we look back at what the team accomplished this year and look ahead to how SAFER III will continue supporting communities across the region through lifesaving services.
Enhancing Food Security
Food security solutions were at the heart of SAFER II. We want people who are already in a challenging situation to know they will have something to eat every day. By distributing locally sourced, high-quality flour to bakeries, we established a steady supply of free bread for over 431,000 residents in formal and informal displacement camps and collective centers.
Bread is also made available each day to Syrian communities that are hosting a large number of refugees and displaced people. Fresh bread is sold at a reduced cost to help families in host communities that are struggling amidst the conflict and economic challenges in the region. Community-focused efforts also included supplementary food vouchers for especially vulnerable households. Vouchers could be redeemed for meats, dairy products, and other nutrient-rich foods at local vendors identified by the SAFER team.
Abdulrazaq, a displaced Syrian who benefits from the food voucher program, said, "I would not have been able to purchase these goods on a monthly basis without the assistance."
Last year, more than 9,000 families were able to access more diverse foods with the vouchers, and local market owners also benefitted through the sales—expanding the effort's impact in the overall community.
Equitable Access to Shelter and Services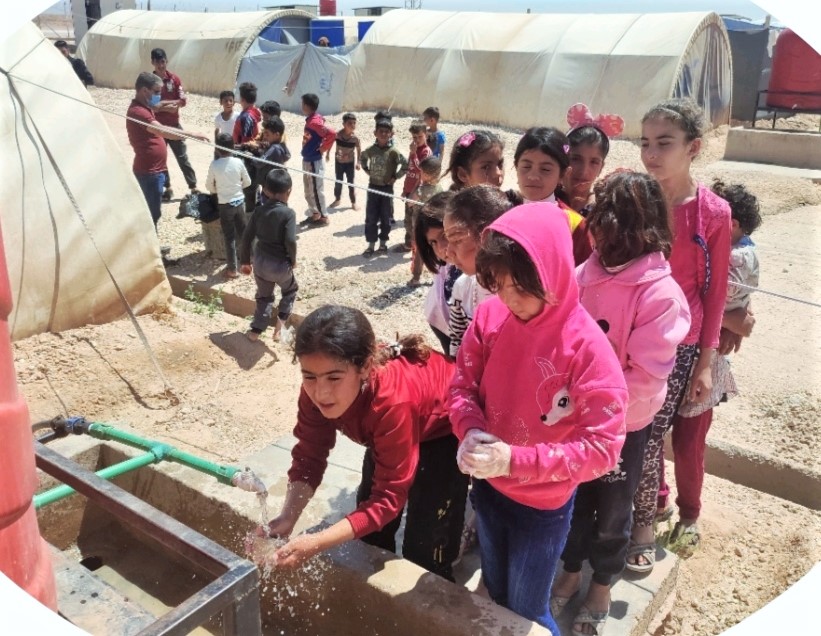 Camp coordination and camp management (CCCM) help ensure equitable access to assistance, protection, and services for people living in formal and informal displacement camps. Through SAFER II, we provided this critical support to residents of four camps in northeast Syria—more than 34,000 people. Our teams delivered and distributed household items, ensured access to water and shelter, and provided protection support to a community coping with the challenges of displacement.
Elham, who lives in one of the camps in northeast Syria, stated that accessing clean water had become increasingly difficult before SAFER II intervened. "Previously, we struggled with a severe water shortage at the center. Even washing tools could bring odors, flies, and skin diseases. Now, the water conditions have improved."
Empowering through Skill Development
Providing lifesaving services goes beyond basic needs like food, water, and shelter. Our team has also focused on providing displaced people with opportunities to engage, learn, and work. People who have been displaced from their homes were also forced to leave their jobs, careers, and other interests behind. Through SAFER II, residents were empowered to contribute. Committees and activities provided leadership opportunities, while also creating space to establish community connections amidst displacement. Residents had opportunities to develop skills and use those skills to earn an income by conducting maintenance and other work in the camps.
Hessa is a mother of three from Al-Hasakeh who works on a hygiene promotion team. "My work was enjoyable, and what pleased me the most was that I got to know all the [settlements] in the city, including those with displaced people from my hometown," she said. "During my time working with SAFER II, I felt a sense of pride."
Looking Ahead
As we transition into the third year of the SAFER program, our purpose remains steadfast—to address humanitarian needs in a dignified manner. Our focus will expand to consider additional food security gaps in communities and the pressing needs of those living in both formal and informal settlements in Syria.
By harnessing the lessons and successes of the past, we stride forward with renewed determination, embarking on a journey to support communities in need and forge a brighter future in the midst of adversity.