The King Talal Dam is one the largest in Jordan, serving as a vital source of irrigation for farmland across the Zarqa region and supporting the livelihoods of thousands of farmers. Through the Protection of King Talal Dam (PROTEKT) program, Blumont and Deutsche Gesellschaft für Internationale Zusammenarbeit (GIZ) GmbH are working on behalf of the German Federal Ministry for Economic Cooperation and Development (BMZ) to protect this essential piece of Jordan's water infrastructure while creating job opportunities.
Sedimentation and soil erosion have reduced the dam's capacity by more than 20 percent over the years. Through PROTEKT, 500 Jordanians and Syrian refugees in the surrounding community are being hired to support work at the dam, including the installation of irrigation networks, tree plantings, sediment removal, and construction of flood mitigation structures.
For these workers, this opportunity is a way to gain new skills and move forward in their careers while contributing to the community.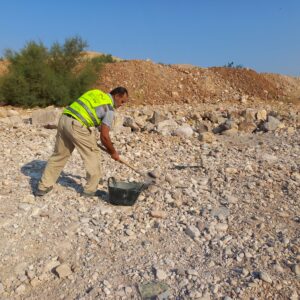 Ayman supports his daughters' education
Ayman is a Syrian refugee who fled to Jordan in 2013, seeking safety for his family. He supports construction work for PROTEKT and hopes the skills he is learning on the job and through technical trainings will help him open his own business.
As a father of six children, Ayman struggled to make ends meet without a steady job. This new source of income has helped alleviate his financial burden.
"I have been able to pay my rent, and cover some of my debts," said Ayman. "I have two daughters applying for Tawjihi (a high school diploma), and they were in urgent need of books and private tutors. I was able to get them what they needed to pass their exams."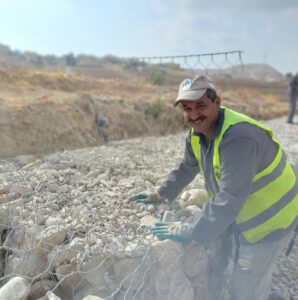 Mahmoud builds leadership skills
Mahmoud, a father of seven, was hired as a construction worker under the PROTEKT project after being unemployed for two years. This job provides him with an income and new technical skills.
Mahmoud was a quick learner and the PROTEKT team noticed his mastery over the construction work. As a testament to his achievements, Mahmoud was asked to supervise a group of 12 Jordanian and Syrian workers.
"This is a great experience for me. I am learning from the other engineers while gaining leadership and management skills," said Mahmoud. "I hope to open a business with a group of workers where I can apply the skills I learned."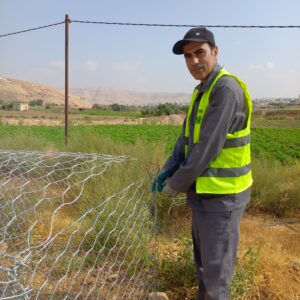 Osama rebuilds his livelihood
The COVID-19 pandemic cost thousands of people their jobs. One of those people was Osama, a  Jordanian whose debts were quickly piling up. After gaining employment through PROTEKT, Osama has peace of mind and is rebuilding his livelihood and making important connections.
"The emotional strain of dealing with debt was giving me anxiety," shared Osama. "Working on the project has helped me cover the cost of rent and pay off some bills. I feel more stable and made friends at work who are now like my second family. I am positive that I will find a stable job opportunity with the technical experience I gained."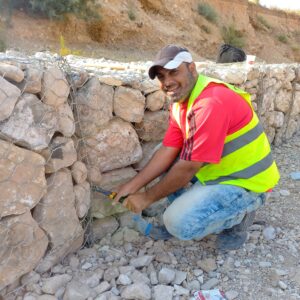 Ayman forms a business plan
The sole provider for his seven siblings, Ayman has been able to support his large family while employed with the PROTEKT program. On the job, Ayman's favorite task was building gabion walls that are meant to prevent erosion and control floods. In the future, Ayman hopes to start his own business building gabion walls for farmers in his village.
"I will start offering this service to farmers in our area who suffer from soil erosion," said Ayman. "I learned a lot from my fellow workers and the engineers. During the employability training, I learned how to write my CV properly. With the technical skills I learned, I can now find better and long-term job opportunities."