For many children living in displacement, learning opportunities are limited, under-resourced, and only decrease as they get older. This year on the International Day of Education, 222 million children affected by crises worldwide need urgent education support, and more than a third of them are out of school entirely.[1]
The TIGER program at Za'atari Refugee Camp (organized by the UNHCR-funded Community-Based Protection program) supports learning opportunities outside of the classroom. The youth-centered program encourages learning through mentorship, leadership, design, career counseling, and community-based initiatives.
Through TIGER, boys and girls ages 9-17 can put their education into action as they partake in activities such as reading groups, community art projects, and health awareness campaigns. In 2022, the program offered 2,500 individual learning opportunities, helping young people at Za'atari Camp explore their interests and find a place in the community.
Opportunities for learning
Teenagers around the world have academic and social lives that revolve around school and their clubs or activities. This is true for Mariam and Abdullah, two Syrian teenagers living at Za'atari Camp, though it has not always been their experience.
Like so many refugee youth, Mariam's education had been lacking and irregular. As a result, she didn't see the value of school and wasn't motivated to stay.
But a chance to be part of engaging activities through TIGER changed Mariam's academic future. "When I saw an announcement encouraging youth to join TIGER, a surge of hope filled my heart, and I was immediately interested." Because school is a requirement for TIGER, she started attending class again so she could participate in the program.
In addition to engaging in activities that TIGER organizes for students, Mariam also received personalized mentoring. One-on-one sessions at the Blumont-run community centers help students like her achieve their personal and academic goals while boosting their confidence.
"Before I dropped out of school, I was ashamed to say my grades when people asked me. After joining TIGER, I became more confident as my skills in reading, math, Arabic, and English have improved. I proudly scored 98% in the tenth grade at school," Mariam said.
For Abdullah, school was not a priority. His only experience with school was in the camp because he left Syria at such a young age. He joined TIGER after hearing good things about it from friends and through it he has found a new purpose in learning.
Abdullah has felt a noticeable difference in his ability to study, complete homework assignments, and pass exams because of the help he received from his TIGER mentors. His participation has enhanced his confidence and ignited a passion for studying. Now, he is one of the top achievers in his class. He shared, "my teachers at the community centers helped me have a clearer vision about my academic future."
Serving the community
Community initiatives are at the heart of the TIGER, intertwined with learning and skill building. TIGER boys and girls are encouraged to contribute positively to their community through a wide variety of fun, educational, and service-based projects.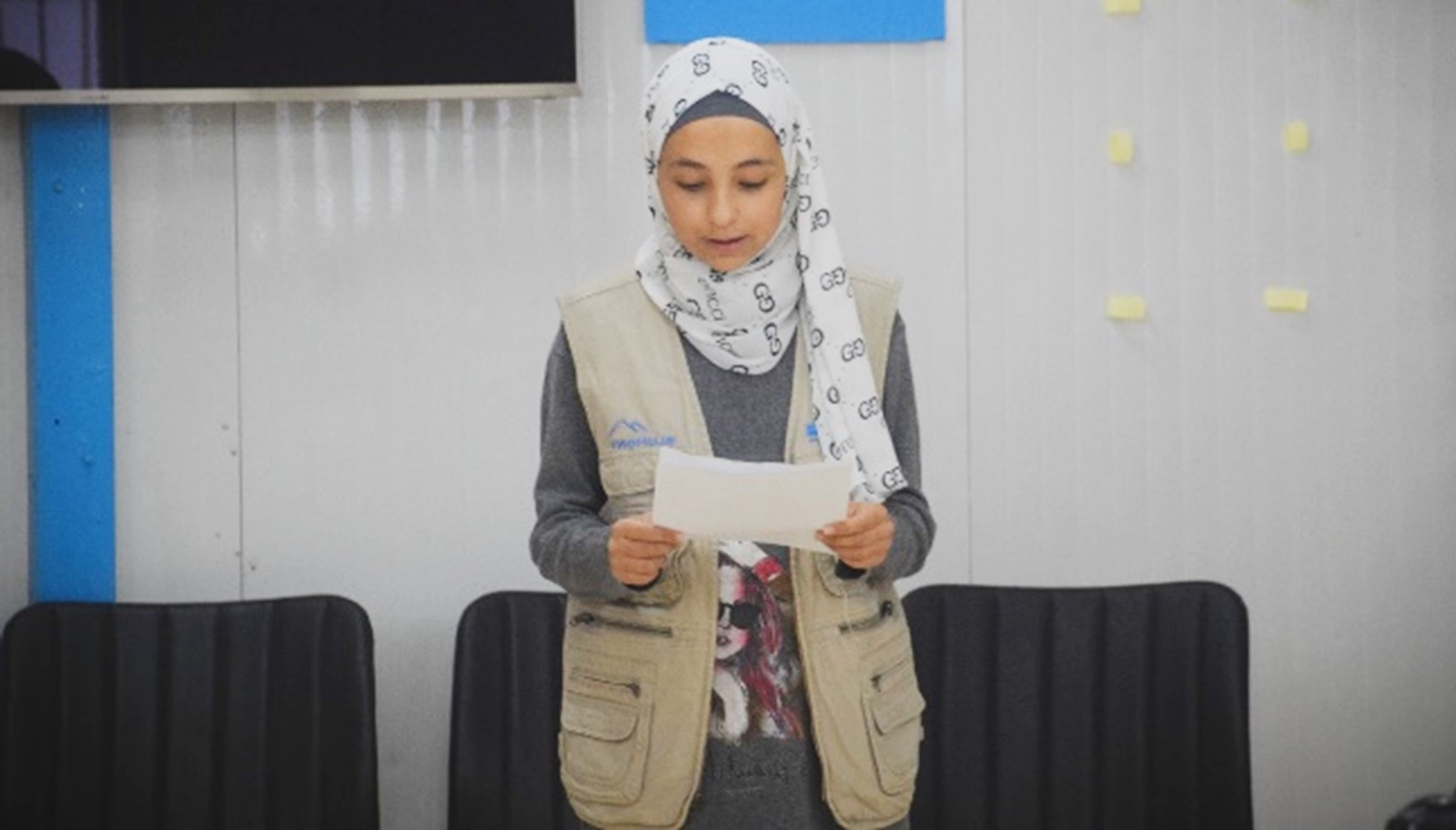 Not only is Mariam back in school and thriving, but she is also an active participant in TIGER initiatives, including joining community clean-up days and spending time with children who have disabilities. "Supporting my community and people in need is very gratifying. Giving back to the community will help us spread the program's messages addressing different social concerns at the camp," she said.
Through TIGER activities, Mariam is finding her voice and making a change in her life and in others'.
[1] https://www.educationcannotwait.org/resource-library/global-estimates-number-crisis-affected-children-and-adolescents-in-need-education