"We can resolve conflict through a picture."
From the time Shawkat took his first steps, he can remember the smell of negatives developing in his father's photography shop in Dara'a in Syria. He grew up visiting the studio and photography became a passion as his father taught him how to tell stories through pictures.
"Integration with the community and the ability to remember many moments may be fleeting, but through the camera I can keep them over time," Shawkat said. "Photography is a world of expression and the art of a vast world that carries the legacy and culture of societies and people."
Shawkat took over his father's shop just before the Syrian conflict began. Like so many others, he and his family had to leave their homes and businesses to seek safe refuge, finally arriving at Za'atari Camp in Jordan in 2011.
Adjusting to a new country, without the community of Dara'a and without an artistic outlet, Shawkat found camp life difficult. He bought a small camera and began to capture his new surroundings—telling the story of refugees' lives through his photos. His talents were quickly noticed and he began working with NGOs in the camp, joining the Blumont team in 2016.
As he adjusted to life at Za'atari, Shawkat saw how others were affected by the stress of the conflict back home. He saw an opportunity to introduce photography to help people learn a new skill and relieve stress, while also retaking some control of their own stories.
Shawkat began teaching photography classes with Blumont, connecting with camp residents of all ages, with a particular focus on reaching young people.
"Photography is a therapy," he said. "These kids are coming from the war and I can tell this is a positive step."
Shawkat's classes are for boys and girls of all skillsets and backgrounds. He teaches the ins and outs of photography while inspiring his students to do what they love. One student, who also participates in the TIGER program, loved the class so much that she decided to study Media and Journalism in the future.
Shawkat has piloted several innovative initiatives to grow his students' knowledge and increase recognition of their work. In 2017, he put on a photo competition for 30 girls and boys and awarded a camera to two winners.
"Children's photography education depends on guiding them," Shawkat said. "Skill in photography is inherent to all children, but honing this instinct requires effort and good guidance to build their art taste and push them to the world of creativity, innovation, and beauty."
He also helps them develop skills that go beyond photography. Older students have the opportunity to mentor younger students, building connections and confidence. Their work can also have a more direct impact on the community. A 2017 exhibition showcased refugees' photographs depicting issues with electricity in the camp. To raise awareness and support to address the challenges, he organized 20 camp residents to speak to the media about the needs and opportunity to increase funding and improve electricity service.
While he has made a productive space for himself in Za'atari, Shawkat also participates in photography competitions, attends courses in communities across Jordan, and aspires to continue his studies in filmmaking. Recently, he submitted two photos to a National Geographic competition and is waiting on the results in the coming weeks.
"Academic study is very important and helps to sharpen skills and increase creativity," Shawkat said. "Reading stories, books, and watching foreign or even Arab films, gives me more motivation, more experience, and more accurate selection of the most beautiful shots."
He displays his photographs and draws motivation from giving to people around him. He says photography is an art that doesn't require many resources, making it a powerful outlet for expression and peace, regardless of where someone is.
---
Shawkat documents life in Za'atari Camp through his photos and videos, including for Blumont. To see various projects, including videos highlighting initiatives like dental health and arts and crafts for children, follow us on social media.
View a gallery of some of Shawkat's students' photography below!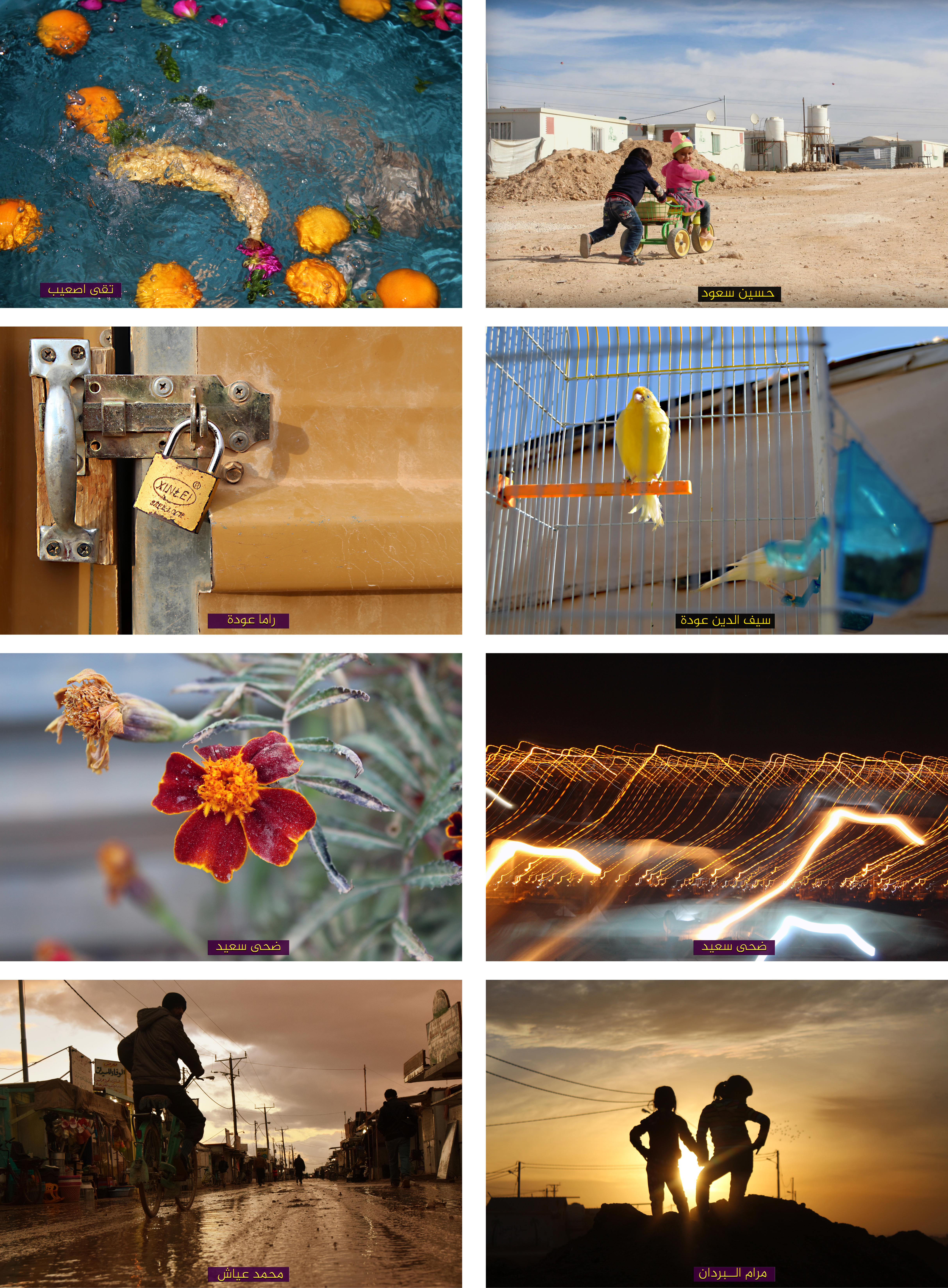 ####
Blumont's Za'atari Community Based Protection Program (CBP), funded by UNHCR, works to protect the well-being, rights and dignity of Za'atari Camp residents through integrated and sustainable programming focused on case management, community mobilization and community engagement.
RELATED READING
Za'atari Community Based Protection Program (CBP)
Learning Hubs Provide Advanced Opportunities for Refugees