These Inspiring Girls Enjoy Reading (TIGER) program received a special award at the 2017 Arab Women of the Year Awards.
These Inspiring Girls Enjoy Reading (TIGER) is a community-based initiative implemented by International Relief and Development (IRD)/Blumont in Za'atari Camp as part of the UNHCR Community-Based Support for Refugees-3 (CBSR-3) program. The TIGER program supports the education and empowerment of girls between the ages of 12 and 18 and is being implemented in IRD/Blumont's five community centers across the camp with the support of Syrian TIGER coaches who play a monumental role in encouraging learning, innovative thinking, and teamwork among the 120 program participants. In November 2017 the TIGER girls were recognized at the third Arab Women of the Year Awards ceremony held in London, England. The recognition ceremony was hosted by London Arabia Organization and held in partnership with Regent's University London, Bicester Village, La Vallee Village, London & Partners, and the Arab British Business Association, and is meant to celebrate the achievements and contributions of Arab women across the globe who have been, and continue to be, exceptional role models in their communities. The Special Award presented to the TIGER program was accepted on behalf of the girls by IRD/Blumont Za'atari Camp Manager, Siraj Al Hmoud, and UNHCR Senior Adviser, Reem bint Amr bin Abdelhamid.
This recognition was achieved through a nomination made by Omar Bdour, London Arabia Organization Chief Executive Officer, after his visit to Za'atari Camp in October 2017. In an interview with Arab News, Mr. Bdour was reportedly "completely overwhelmed with emotion" when he visited the camp and "met the young women benefiting from the program." Furthermore, he added that for young people who "have almost nothing…their hopes and dreams are all that sustain them, but that doesn't mean they don't want to break out of their box." On December 17, IRD/Blumont organized and held a recognition ceremony in Za'atari Camp entitled "Here Excellency Continues" for all TIGER girls and their coaches to formally present the girls with the award and to celebrate their continuous learning, positive impact, and influence in their local community.
The TIGER program was developed and currently operates around four interactive components, which include academic support, community service, access to and use of a comprehensive electronic library, and coach development opportunities for the TIGER coaches. These four components are closely tied to the program's long-term target impact goals for the girls, which include improved academic performance, increased enrollment and attendance in school, and strengthened confidence and sense of agency. Since enhanced school performance and attendance is one of the main pillars of the program, the girls regularly meet with their coaches for after-school sessions where they receive help with challenging school subjects, exam preparation, and school work with a focus on developing their skills in subjects such as Arabic, English, math, and science. To facilitate learning during the after-school sessions, the girls use their tablets—procured by IRD/Blumont—to access a plethora of interactive resources hand-picked and curated by their coaches based on close assessments of the participants' needs and interests. Through the electronic library, the girls are able to contextualize the lessons provided by their coaches through resources such as videos, articles, and other engaging learning materials.
The girls are truly an inspiration to their community as they never hesitate to think proactively and creatively about pressing community challenges. To address these challenges, they apply the knowledge and skills cultivated through the program to design, develop, and implement impactful and sustainable community projects. Through their projects, the TIGER girls aim to promote community-based solutions that are generated and implemented in partnership with the community at large. In 2017, the girls worked on projects to raise awareness regarding general safety in the camp, harassment outside of schools, early marriage, girls' school drop-out rates, and the importance and sustainability of recycling. Through this process of raising awareness and instilling change in their own local community, the girls are learning the value and power of teamwork, of service, and of creative thinking.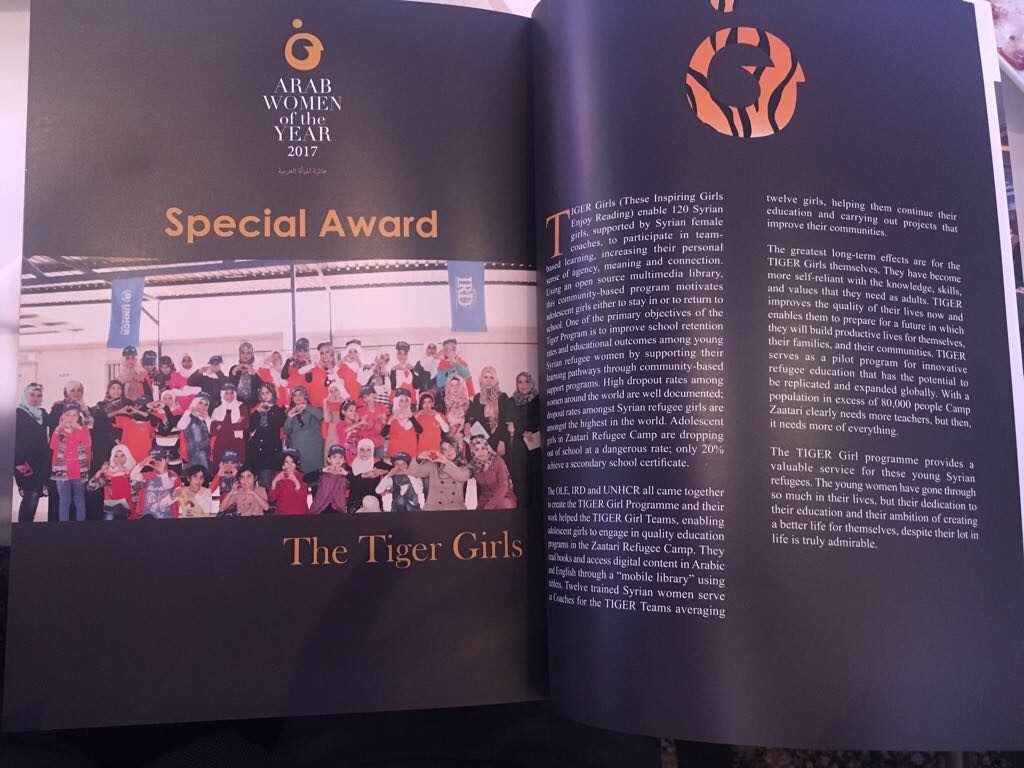 ****
TIGER is an initiative of the UNHCR-funded Community Based Support for Refugees 3 (CBSR 3) program which delivers health and other support services to Syrian and non-Syrian refugees in camp and urban settings in Jordan. 
READ MORE:
Arab News Coverage of the Event