As events continue to unfold in Afghanistan, Blumont's global team is working to support current and former employees of Blumont and IRD with documents for Special Immigrant Visas (SIVs) and P-2 visa requests.
U.S. Government Resources: Eligibility
The process established by the U.S. Government for SIV and P-2 visas, eligibility criteria, and necessary forms can be found below (links to sites not managed by Blumont):
Qualifying Blumont/IRD Employees
If you are a former employee of Blumont or IRD in Afghanistan, qualify for an SIV or P-2 visa, and need information, please send requests to VOE@Blumont.org.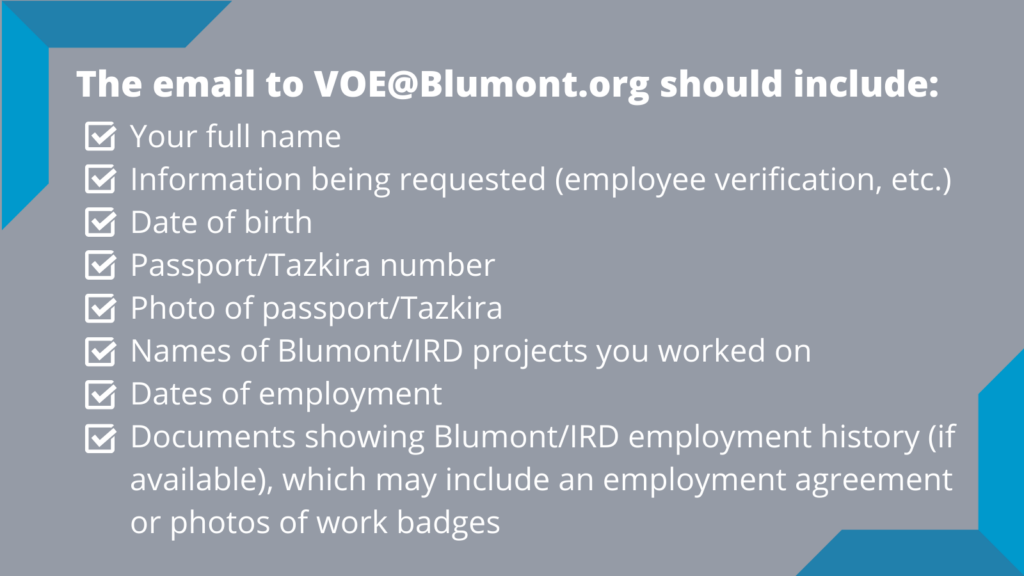 Do not share personal documents via social media.
Our team is currently managing a high volume of requests. To be as efficient as possible, please direct Blumont or IRD inquiries only to VOE@blumont.org and do not send duplicate requests or email for status updates.
Additional U.S. Government Resources (not managed by Blumont)
If you have already submitted a completed SIV application to the U.S. Department of State, the National Visa Center has established two phone numbers for inquiries. Be advised that the call center is receiving a significant number of calls.
Main number: +1-888-407-4747
Alternate number: +1-202-501-4444
State Department SIV Hotline Instructions
When calling, the first prompt is only for American citizens. At the second prompt (If you're calling about visas), press 1. Then, select when it asks:
"If you are a non-US citizen wanting to speak to a specialist about an immigrant visa, press 1"
"If you are a non-US citizen wanting to speak to a specialist about a non-immigrant visa, press 2"