Pollution, climate change, and the deterioration of natural resources pose serious threats to the future of our planet. The world is faced with an imminent emergency, and an even greater responsibility, to protect the environment and ensure a healthy, safer planet for future generations.
Around the world, Blumont works with communities to build a foundation for progress. An essential component of our work is the sustainability of programs. We are committed to designing innovative and long-lasting solutions that protect a community's future and their environment.
Our efforts range from securing sustainable access to power for farmers in Afghanistan to preventing water loss in Syrian home-vegetable gardens and reducing soil erosion around one of Jordan's most vital water dams. Regardless of where we work, Blumont prioritizes local engagement to guarantee programs align with community needs, especially when it comes to their local environment.
Solar Panels Generate New Income in Afghanistan
Mohammad and his family depended on their farm for a steady income, but an explosion near their home damaged the property and their livelihood.
When Blumont's Conflict Mitigation Assistance for Civilians team learned of the incident, they met with Mohammad to assess what kind of assistance he needed to rehabilitate his farm. Through the USAID-funded program, the team provided a tailored package that included solar panels, a water pump, and pipes for the farm with the hopes that these materials would empower the family to restore their farm – and even modernize it.
"The assistance package helped me greatly to improve my work and generate sufficient income," said Mohammad.
Mohammad says the solar panels have enabled him to draw more water through his new pump system, which helps him irrigate crops more frequently while reducing water loss. With the new equipment, Mohammad is efficiently and sustainably cultivating his crops and even expanding his farm to include fruit trees. After feeding his own family, he is selling surplus crops at local markets to earn an income and alleviate food insecurity in his community.
Rehabilitation Efforts Protect a Vital Water Resource in Jordan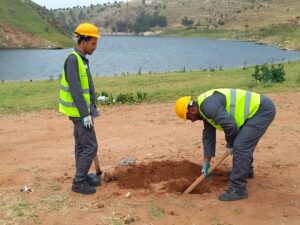 King Talal Dam is a vital part of Jordan's water supply infrastructure that has lost over 20 percent of its capacity due to soil erosion and sedimentation. Through the Protection of King Talal Dam (PROTEKT) project, Blumont is working to improve land conditions surrounding the dam while increasing water availability and creating job opportunities for the local community.
Through cash for work activities, the local community is supporting construction and rehabilitation projects around the Zarqa River that will maintain the dam's water storage capacity. These activities will help regulate and control floods and water flow to an area that critically needs water for agriculture and daily life. Reducing sedimentation will also improve water quality and the operational life of the dam.
Under PROTEKT, Blumont seeks to strengthen female labor force participation, ensuring that 20 percent of the employees are women who would have otherwise been excluded from these manual labor jobs. Sa'ada, a 29-year-old agriculture engineering graduate, is part of the cash for work activities and supervises a group of 12 Jordanian and Syrian women.
"This is a great experience for me, I am learning from the other engineers, and gaining leadership and management skills," said Sa'ada. "The project is helping change how society views women working in agriculture and making it more acceptable for women to do manual labor."
Drip Irrigation Systems Prevent Water Loss in Syria
The agriculture sector accounts for approximately 70 percent of families' income and serves as the main food source in the northeast region of Syria. Home vegetable gardens provide households, particularly female-headed ones, with access to fresh foods and allows them to sell their produce to meet their basic needs.
Through the USAID-funded Shelter and Food Emergency Response program, Blumont helps food-insecure households establish home vegetable gardens and provides seeds for planting vegetables and training on cultivation techniques.
Rainwater harvesting and drip irrigation systems are installed in all household gardens to promote efficient water usage. Rather than flooding fields, drip irrigation is tailored to the needs of the crops, targeting water and fertilizer to the plants while reducing soil degradation and water loss. These systems are connected to water tanks which cut down on the amount of diesel needed to operate pumps—limiting both pollution and noise in the air.
"Drip irrigation systems fit into my idea of inclusive development—considering the effect on the land, water, and air," said Nosheen, a Blumont agricultural technician in Syria.