Inaugurated by the United Nations in 1972, June 5 is recognized as "World Environment Day" around the globe. For 2017, the theme of the day was "Connecting People to Nature." World Environment Day encourages people to get outdoors, appreciate the beauty and importance of the environment and carry forward the call to protect the earth that we share.
Blumont's Sindh Community Mobilization Program (CMP) celebrated World Environment Day in five CMP targeted districts and one town in Karachi. In partnership with schools, CMP educates children through co-curricular activities and raises awareness among different stakeholders, i.e. students, teachers, parents, community members, school management committees and government officials, on pertinent issues related to education and the environment. Celebration of World Environment Day in CMP targeted communities provided an opportunity to take practical action toward environmental protection and contribute to the environment i.e. planting and watering trees.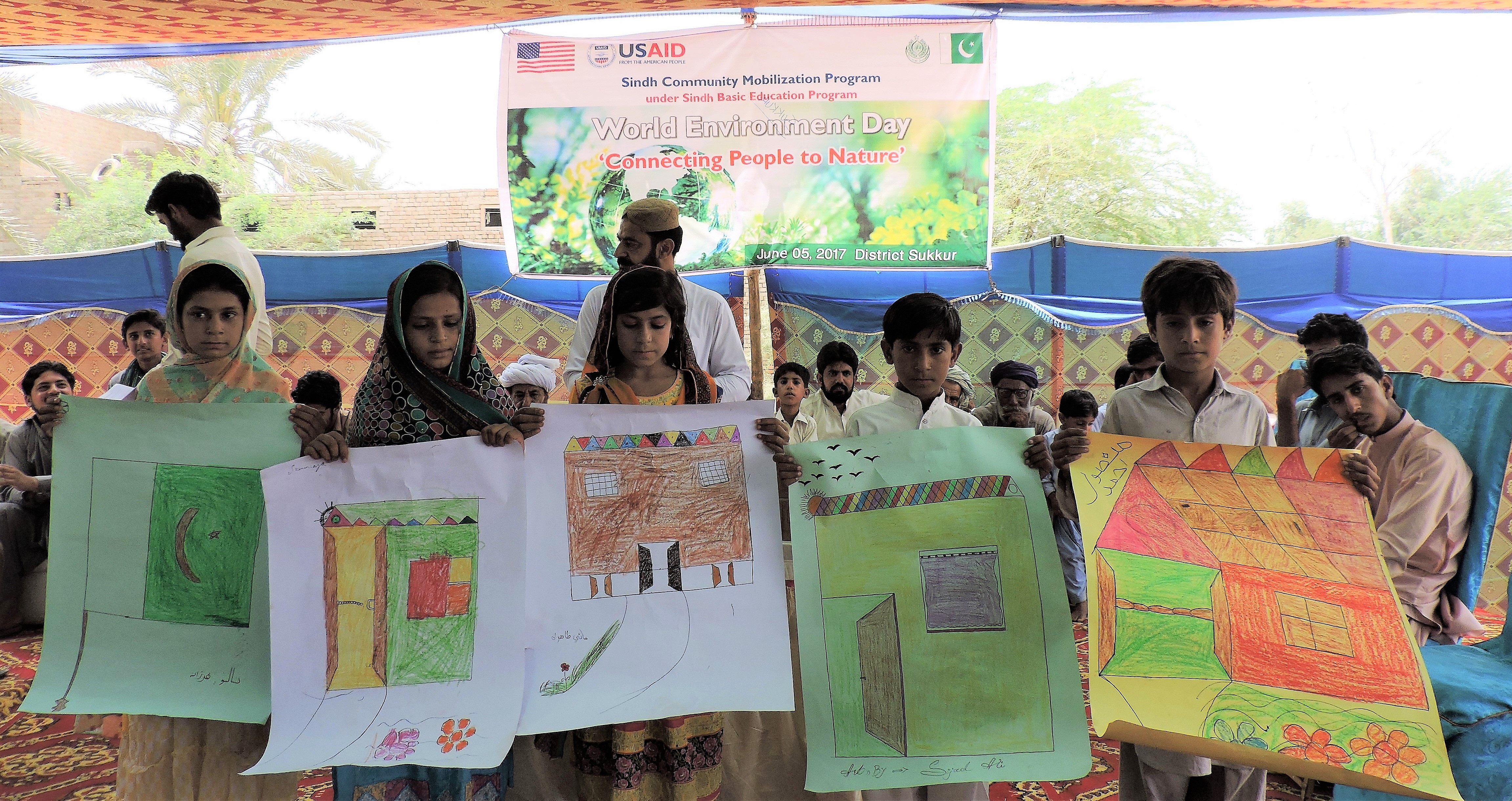 School Management Committees (SMC), sub committees, parents and teachers all encouraged children, students and other community members to plant a tree, water it regularly and monitor the tree's health and progress. The goal of the activity was to increase both the children and communities' understanding of science subjects and environmental matters.
Event activities included: tree planting by children and communities; arts/drawing competitions/ poster development on local environmental issues; quiz competitions on science topics; debates/speeches on environmental and science topics; essay writing and skits; focus group discussion on local environmental issues and the importance of nature; and interaction with students by Social Development Experts at schools.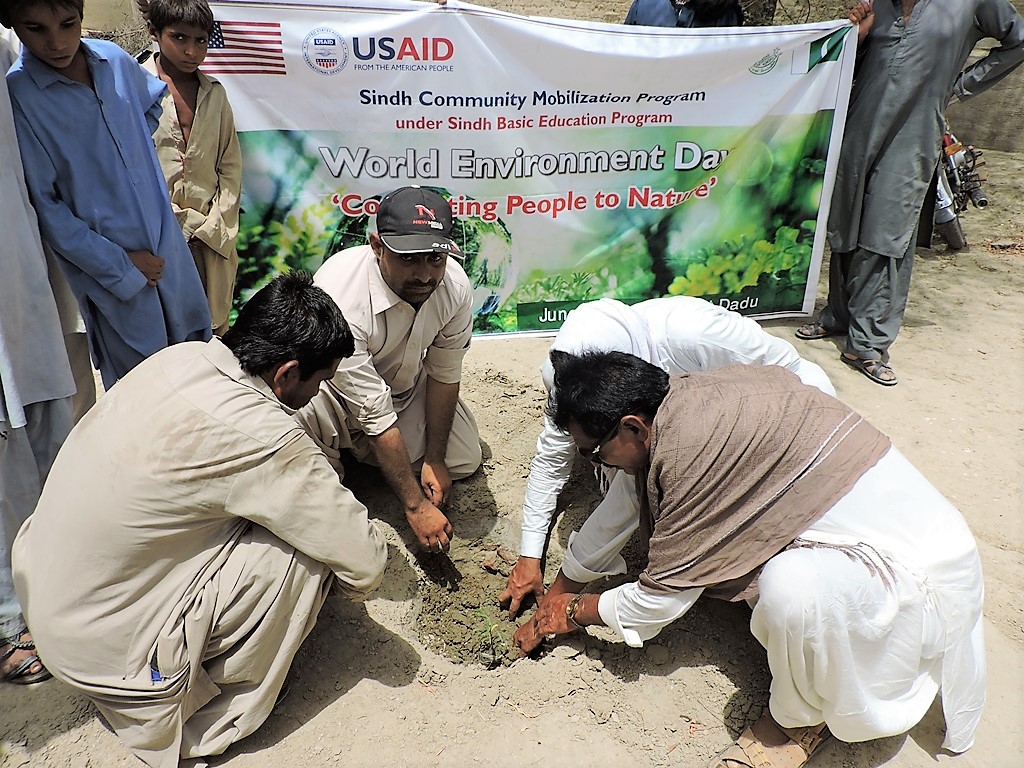 Qazi Jamil Junejo, Head Teacher of Government Boys High School Karani, said, "This day is celebrated globally and the objective of celebrating this day is to create awareness for healthy environment among masses. Cutting one tree is equal to killing one person. We need to promote maximum plantation in our areas for a cleaner environment."
Ahmed Ali, Principal of Government High School (GHS) Kakar in Dadu district, shared his story of planting over 300 trees at the school. Highlights of the Dadu event included a poetry recitation by Mr. Imdad Babar on the importance of trees, and student skits on the perils of cutting down trees and importance of planting new ones.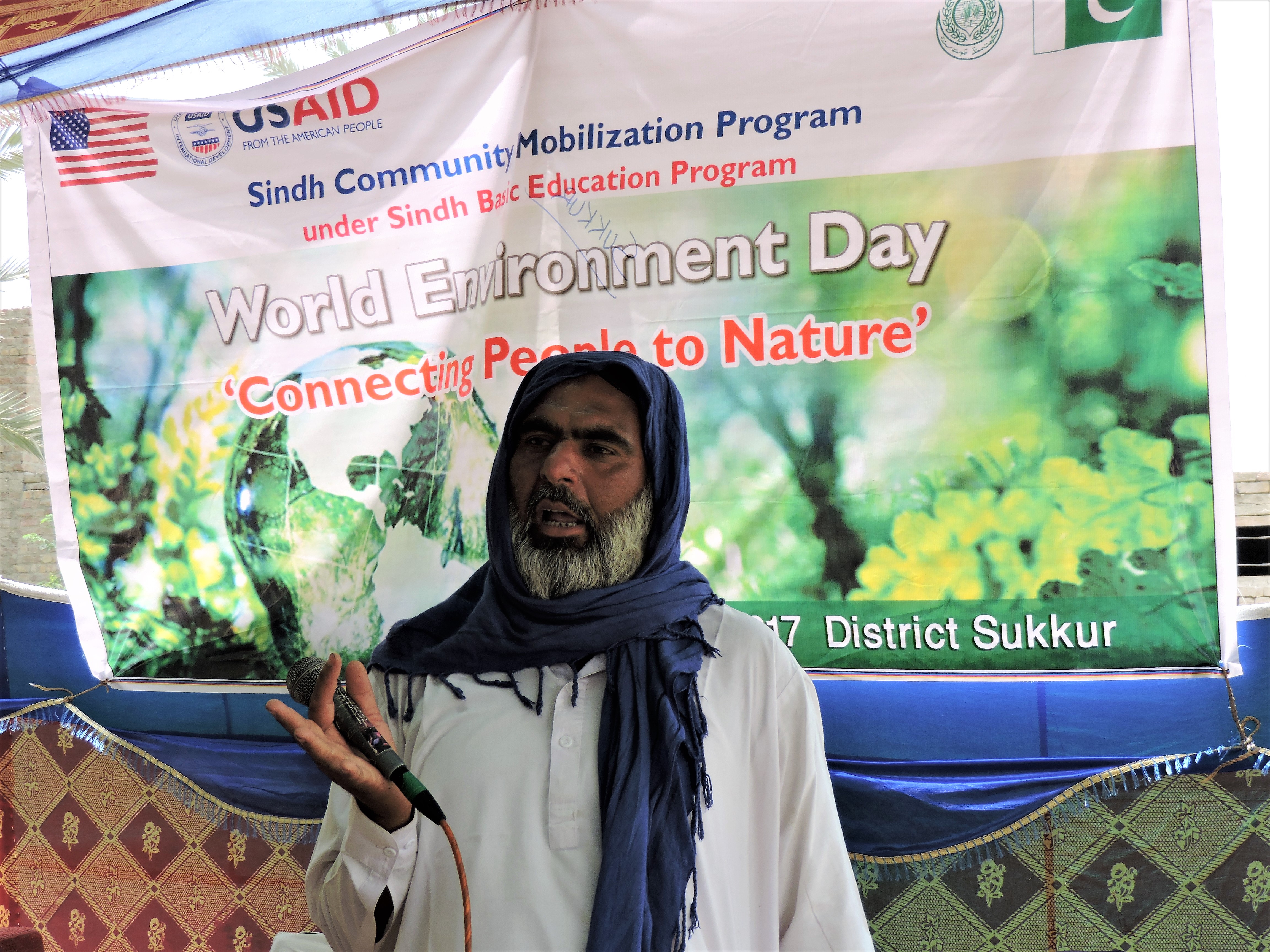 CMP District Managers in Dadu, Larkana, Qamber Shahdadkot, Sukkur and Karachi told audiences about CMP activities in their respective districts and shared their views about the importance of Environment Day, saying everyone should aim to plant at least two trees on cultivated land and one tree at each household.
As a result of the activities, CMP helped plant hundreds of trees alongside Sindh communities, the Forest Department, district officials, parents, teachers and students.
RELATED READING:
 Students Shine at Intel Science Fair
A Partnership for Nutrition Education in Sindh