The Sindh Community Mobilization Program (CMP), in collaboration with USAID and the Program Management and Implementation Unit (PMIU), Government of Sindh (GOS), organized a World Teachers' Day (WTD) celebration in Karachi, Khairpur, Sukkur and Jacobabad districts.
Michael Hryshchyshyn, USAID's Acting Deputy Mission Director for Sindh and Balochistan, graced the occasion as Chief Guest in Government Boys Secondary School, Damba Village, Gadap Town, Karachi, and Program Director, Sindh Basic Education Program, Agha Fakhur Hussain and Deputy Program Director Ammara Khattak represented GOS. Excluding USAID officials, senior CMP management and District Education Office representatives and around 200 people including community members, parents, school management committees (SMCs) and students were present at the event.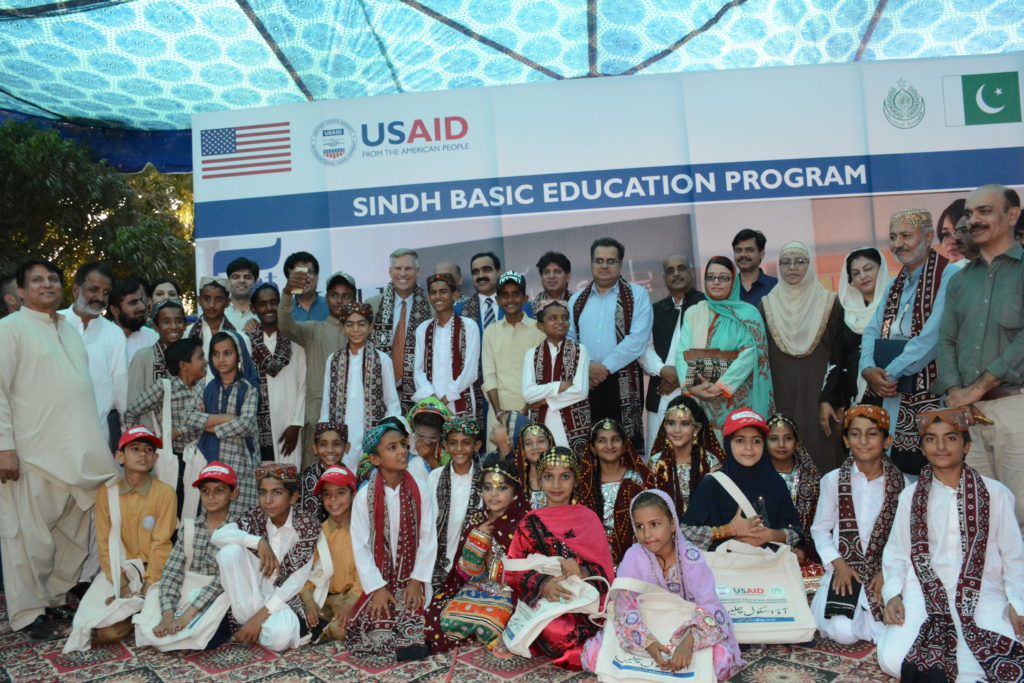 The purpose of celebrating World Teachers' Day was to encourage students, school staff and the communities in these districts to recognize the dedication, service and contribution of teachers. Certificates and shields were also distributed as visible recognition of the teachers' contribution toward nurturing the future generations of Pakistanis.
Speaking at the event in Karachi, Michael Hryshchyshyn said, "the U.S. Government has been contributing over the past many years to reform teacher education programs across Pakistan, including Sindh, to help the Government of Pakistan attain its goals for quality education and increased access. USAID has helped develop certificate, diploma and degree programs for teachers across Pakistan, trained thousands of teachers, and contributed to developing supplementary materials for teachers to support teaching across the province."
Besides Karachi, CMP also organized a WTD event at Government Boys High School Banglow Syedan, in Jacobabad district. The event was chaired by Mr. Nazimuddin Buriro, Deputy District Education Officer (Secondary & Higher Secondary) Jacobabad. Over 260 teachers from neighboring schools, SMC members, parents, notables of the area, civil society representatives and children participated in this event.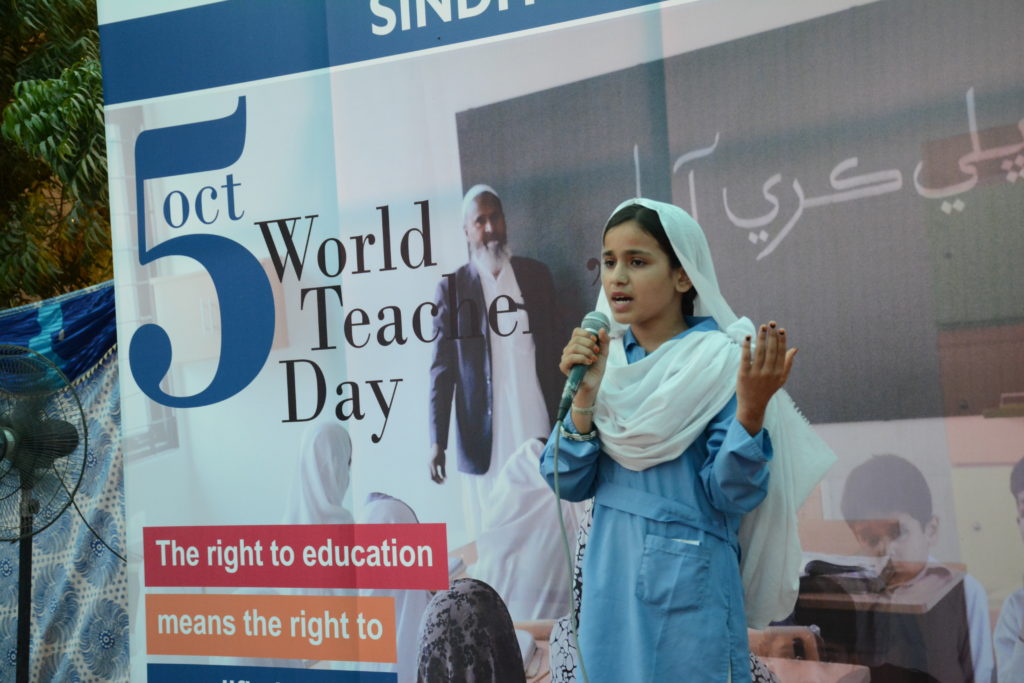 The CMP team in Sukkur organized a WTD event at Government High School, Bhellar, taluka Pano Akil where more than 150 people participated. Speaking on the occasion, Hafiz Shahbuddin Indhar, District Education Officer–Secondary Education, spoke toward the appreciated joint efforts of CMP and the Education Management Organization (EMO) in organizing a very successful event. He also gave thanks to all of the teachers and praised them for their hard work. To fulfill the requirements of the school he announced posting in this school and assured that his office will provide every possible support to the EMO. He urged the students to respect their teachers and parents, stating that it is the key to their success. Abdul Hameed Bullo, an Advisor for CMP, thanked the Sukkur District Education Department and District Government for their cooperation and support. He said, "today is a significant day for teachers who build the future of the nation, by celebrating World Teachers' Day in Pakistan we are part of the global community."
The event in district Khairpur was organized at Government High School Jhajh Regulator, and attracted the attention of nearly 300 participants (150 students and 150 community members, teachers and government officials). At the event, District Education Officer Hamidullah Mehar distributed shields and certificates to the highest performing teachers, and thanked them for their dedication and tireless work. The Vice Chancellor, Institute of Business Administration (Sukkur), also attended the event.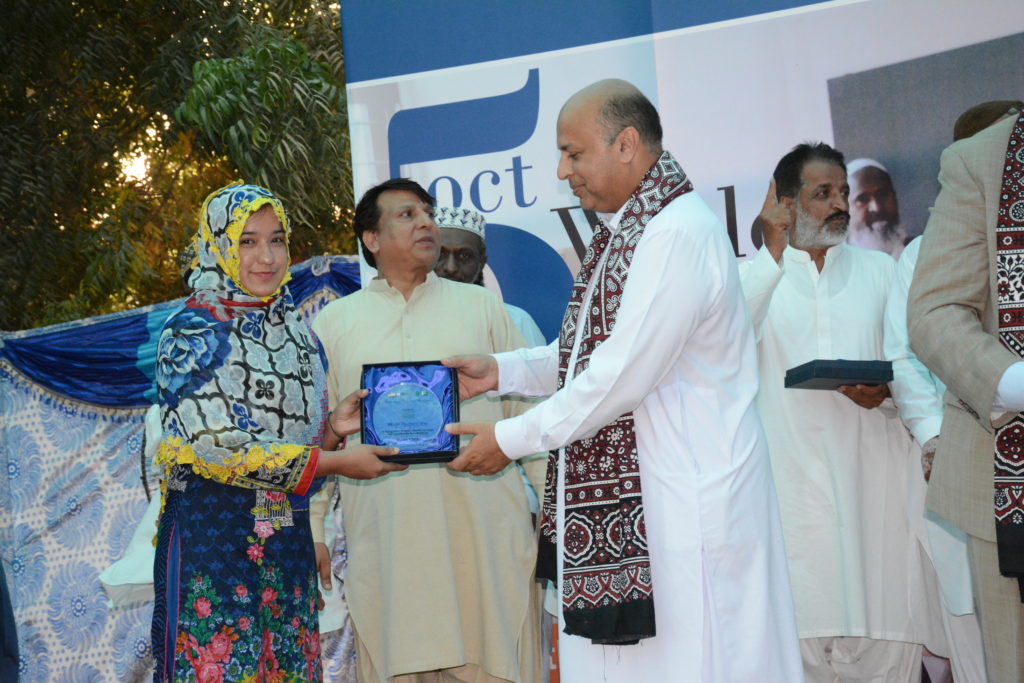 During all four WTD events, students performed cultural songs, skits/tableaus and speeches to highlight the importance of education, particularly for girls, and to pay tribute to their teachers. In their remarks, officials highlighted the significance and importance of teachers in upbringing the future generation, stating that without a qualified teacher, the goal of an educated society cannot be fulfilled.
Prior to the WTD event in Karachi, the USAID and PMIU delegation, along with CMP and Halcrow teams, visited the construction site of the SBEP school in Damba Village. They took a tour of the school building and inquired about various aspects of the construction. During the walk-through, the Acting Deputy Mission Director also discussed the possibility of adding another floor to the existing structure. He said that the demand for education has increased manifold due to the provision of such state-of-the-art school buildings under SBEP.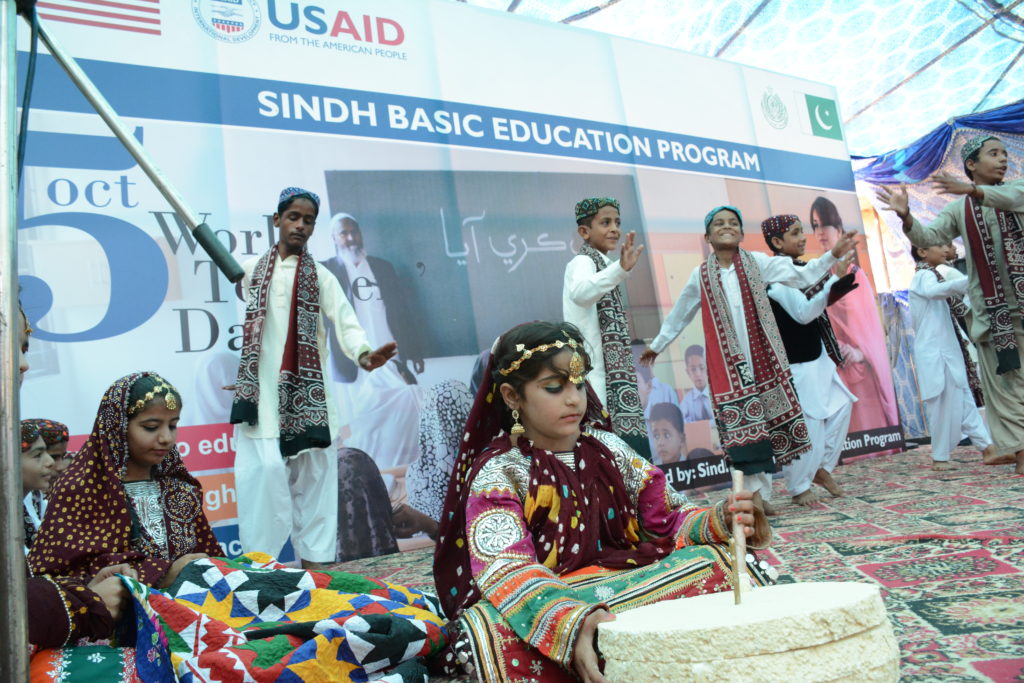 USAID's SBEP is constructing 118 modern school buildings in nine districts of North Sindh and five towns of Karachi. Construction of more than 44 schools has already been completed, with the remaining schools are at various stages of construction and completion. The program aims to increase and sustain student enrollment in primary, middle and secondary public schools in select areas of Sindh, with a special focus on providing opportunity for children who have dropped out of school. In addition to constructing schools, SBEP also supports the government's reforms in education, community mobilization, public-private partnerships and improving reading competencies of students in schools.
Watch a video showcasing the event here:
[embedyt] https://www.youtube.com/watch?v=433ueXqSJD8[/embedyt]
****
CMP is a USAID-funded program that supports the Government of Sindh's education reform and USAID's Sindh Basic Education Program. CMP improves school resources and encourages community support for educational reform in Sindh province while identifying and addressing primary barriers to access, particularly for female students.
RELATED READING:
Sindh Community Mobilization Program (CMP)
Secretary of Education Visits CMP