At Blumont, we know that women play a critical role when it comes to strengthening communities and taking on some of the world's biggest challenges. For International Women's Day, we asked women who work at Blumont and women leaders who have been part of our projects to share what inspires them to do the work that they do. Their stories and experiences illustrate just a few of the ways that women are leading the way at Blumont and in communities around the world.
Shama – Community mobilization advisor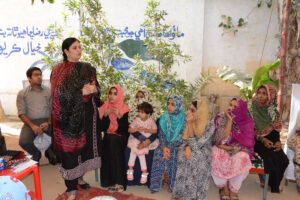 Shama, an expert in community mobilization and education, is leading the way in improving school access for children in Sindh, Pakistan–especially for girls.
Over the past nine years, Shama has worked alongside families, community members, teachers, school administrators, and government officials to increase student enrollment and retention. Part of that is persuading parents to send their daughters to school.
"Education enhances opportunities for women and girls and also enables them to change their lives in the social and economic spheres," she said.
For Shama, this personally rings true. She came from a disadvantaged background, like many children in Sindh, but she proudly stands on the shoulders of extraordinary women who changed the status quo.
Her mother, despite being illiterate, encouraged her and her sisters not only to pursue a higher education, but also to be "confident, empathetic, and make their own life choices." Her mother changed their family forever, inspiring Shama and her sisters to challenge patriarchal norms.
Shama works with women community leaders that also inspire her daily. Their commitment and clarity, she said, motivate her to contribute to the betterment of society. She believes women can bring about positive change by using their voices and speaking up for girls' education. As her career progresses, she aims to be more involved in decision-making and advocate for women's empowerment.
Shama is already a role model for young women seeking to make a difference in their communities. "I always encourage girls and women to be leaders."
Shama's words for Women's Day
Why is it important for women to have a role like yours? Would you encourage other women to take on this role?
"Women's voices need to be heard in decision and policy-making institutions to make better policies and influence decision-making processes to be more equitable for the groups who have been left behind historically. The leadership and management style of women bring positive changes in the organizations as well as at household and societal levels."
Are there any women who inspired you to do this?
"I am always inspired by ordinary women who were able to exercise their leadership skills in difficult circumstances."
Nosheen – Agriculture technician
Nosheen is an agriculture technician working on Blumont's SAFER team in northeast Syria to restore agriculture and livelihoods in communities facing food insecurities.
Nosheen's words for Women's Day
Who do you work with and why?
"When I am in the field, I see strong women who are working hard and fighting for their families and loved ones, so I am inspired by their resilience every day."
How has this role this affected your life?
"I believe working in the humanitarian field inspires you to make crucial decisions about your life and future, and inspires you to face life's hardships just as so many women do that we see in our work."
Maryam – Career counselor & sports coach
Za'atari refugee camp, Jordan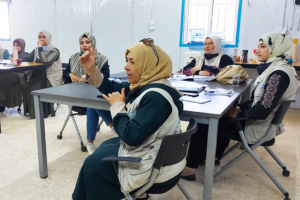 Maryam and her family fled Syria in 2013, seeking safety amidst conflict and civil war. She found security at Za'atari Camp in Jordan, where the family still lives and where Maryam has become an active member of the community. Maryam's natural leadership abilities shine through as she works to inspire women and young girls at the camp to pursue their talents and potential.
Maryam is a career counselor and helps other refugees living at Za'atari find work. Through a partnership with the Community-Based Protection program (funded by UNHCR) and Amideast, she coaches women through the hiring process, providing guidance and helping to build their confidence.
"One woman was hired as a tailor," Maryam said. "I helped her prepare for the interviews with how to answer the questions and market herself."
Maryam recognizes how financial independence is important for women and encourages those in the community to follow their interests.
"Work is important to women," she said. "I advise the women I meet to enroll in all trainings and learn from every available opportunity."
When she is not counseling women on their careers, Maryam is supporting girls—and encouraging them to play. As a soccer coach at the camp, she shares a love of sport with her team, including her daughter Shaza.
Just as work can provide women with independence, Maryam sees freedom in sports. She always tells her daughter to "play and take your time," rather than focusing on marriage at a young age. Shaza dreams of becoming a professional soccer player and a translator, and her mother Maryam could not be more proud.
Maryam's words for Women's Day
What is your hope for the future?
"I have a lot to give. I dream of helping other women find work and supporting them to be independent."
Are there any women who inspired you to do this work?
"Actually, my father was my supporter. He encouraged me to study, learn, work, and not to let any obstacle stop me."
Zohra* – Program field coordinator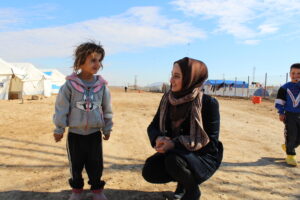 Zohra is one of the inspiring women working in northeast Syria on the Shelter and Food Emergency Response project, funded by USAID's Bureau for Humanitarian Assistance. Zohra has been working for Blumont since 2014, serving the local community and refugee populations in the region.
Zohra has dedicated herself to helping the displaced and vulnerable people affected by the decade-long war in Syria. As a Syrian, she empathizes with the women and children she works with every day: "I see mothers who lost their children, women who lost their husbands, children who are orphaned and homeless – all people who are deprived of their most basic rights."
In addition to her impressive technical knowledge, her colleagues say that one of her most important contributions is creating a strong, diverse team. Made up of men and women from different religions and ethnicities, they all ascribe to the same goal: delivering humanitarian assistance to people in need. Zohra said everyone on her team will go the extra mile for the communities they serve.
Zohra believes that it's important for women to hold leadership roles in humanitarian assistance. As the first woman on her team to hold a program field coordinator position, she knows firsthand that women can equally do the work.
Zohra hopes to continue growing in her role and achieving more. Her growth and leadership, she said, will help deliver a message to the world: "Despite war, poverty, homelessness, and all of life's difficulties, women can withstand, work, and establish the importance of their role alongside men."
Zohra's words for Women's Day
Why is it important for women to have a role like yours?
"It is important for women to have high-level roles to show that there is no difference between men and women in humanitarian work. … Women have the ability to do the impossible and overcome all obstacles by will and patience."
How did you get into this role?
"I got this role with hard work and patience despite many challenges. I motivated myself by thinking about women who endure cold winters while living in the camps or women who struggle with other harsh conditions. I know women should not give in to the challenges they face. We are able to bear a lot and achieve a lot."
Milena – Community leader
Marañon, Colombia
Milena is a community leader in Colombia who works closely with our Closing Gaps team to implement a community rehabilitation plan. As an elected leader, she works hard to improve opportunities for people in her village. Her busy days are spent meeting with neighbors, leaders from other towns, and local officials. Milena knows that the time she puts into her community now will lead to more equitable opportunities for women in the future.
Milena's words for Women's Day
Why is it important for women to have a role like yours? Would you encourage other women to take on this role?
"I believe that we have all the capacity to do a good job, only we must fight so that these opportunities are given to us. This is why I strive every day to play a role in creating spaces for other women and demonstrate that we have everything it takes to be excellent leaders."
Are there any women who inspired you to do this?
"I am inspired by strong women who fight for their ideals and are not intimidated by difficulties, and who, no matter how many obstacles life throws at them, they keep going."
Shirin* – Site engineer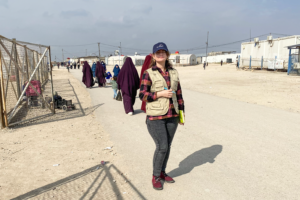 Shirin works in a displacement camp in northeast Syria for a camp coordination and camp management program funded by the Department of State's Bureau of Population, Refugees, and Migration. As a site engineer, she is responsible for the rehabilitation and maintenance of key infrastructure that provides water, sanitation, and hygiene (WASH) services and electricity to more than 800 families living in the camp.
Shirin is one of the few women working in a Science, Technology, Engineering, or Math (STEM) role inside the camp. She encourages other women to take on roles in male-dominated fields, as she believes that women have much to offer outside of traditional roles.
"Working in engineering, a field dominated by men, has allowed me to gain self-confidence and makes me feel like an achiever," shared Shevin. "I encourage other women to work in this field and all areas of life. A woman can adapt to all circumstances and pressures, as she is a mother, educator, wife, sister, and even a father, if necessary."
The resilience and commitment of her female colleagues inspires Shirin to continue doing this important work, even amidst difficult conditions. Shirin and women on her team are breaking barriers and redefining what women can do: "I look forward to developing my skills in all fields to raise the name of women in all economic, political, technological, and scientific fields."
Shirin's words for Women's Day
What has this role helped you accomplish as a woman?
"Working at Blumont as a site engineer has boosted my self-esteem and self-confidence. As a woman in engineering, a field dominated by men, I can say I am an achiever and making significant change as a woman in this field."
What do you hope to do next as a leader and a woman?
"I hope to continue developing my skills and abilities in engineering, while helping other women enhance their self-confidence and begin working in non-traditional fields."
*Names changed for privacy protection.